Pre-season is heating up and I am sure you are already busy creating your first FPL drafts. We know you all love the official Premier League fantasy game. It is great fun, but you can't really win any prizes, as there are only a few, and you are up against millions of opponents! So, for those, that might seek an extra amount of thrill, we did some research and found an interesting tournament with a better prize structure – FanTeam.
This is a premier league season game that pays out prizes to more than 15% of the entries. Real money prizes of up to 50,000 euros to the winner! Of course, there is a buy-in too, so it is not as if they are giving away money for free, but having big, real prizes really increases the excitement with premier league season-long fantasy football! We have been testing FanTeam's platform in the last few weeks and can recommend it. It is fun, easy to understand, clean and backed up by a stock-listed company, based in Norway.
A first look at Fanteam's  Premier League Season 19/20
At the first glance, Fanteam's season tournament and the official premier league event are quite similar. This allows for regular FPL players to quickly get started.
But of course, some differences exist, so let's have a look at the season game in detail.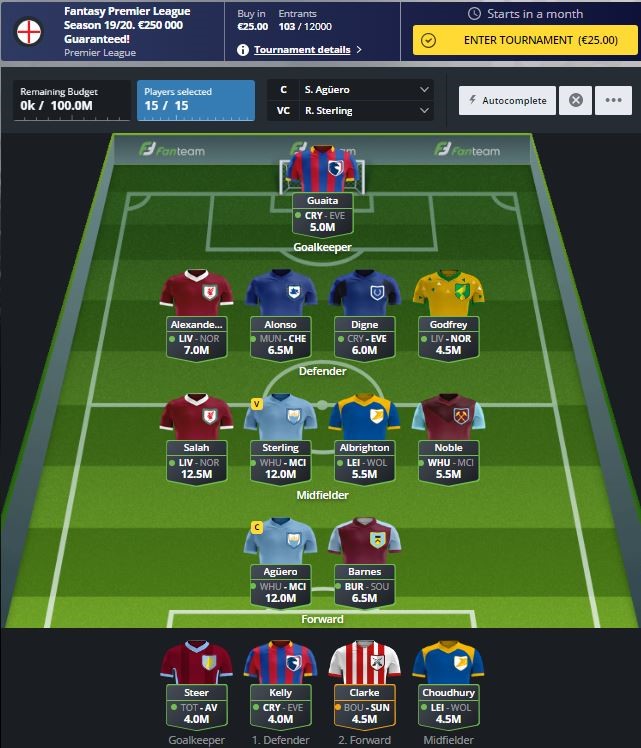 Prize Structure
As previously mentioned, Fanteam has a completely different prize structure. This year they offer a minimum guarantee of 250.000€ to win amongst the players. The prizes for the main event are spread among the first 15%, which ensures that even newer players will have a good chance of recovering their buy-in. The first prize is 50.000€ and should be easier to reach with the 12,000 player entry cap, than on the official FPL tournament, with millions of participants. The most important facts for you shortly summarised:
250,000€ minimum guarantees
50,000€ for the first prize
1,250 prizes in total!
Prizes to the best monthly manager
Prizes to the best gameweek manager
Additional Side-Events
Fanteam offers additional chances to receive prizes even if you did not perform so well in the first few gameweeks. This is why Fanteam has a manager of the month award, with a prize of 1,000€ for first place. In addition to that, Fanteam will introduce a manager of the gameweek prize this year, which gives out 400€ every week to the top performers.
Different Rules
For you players, there are some minor changes, which you should note before you get started. First of all, Fanteam has no chips. They preferred to keep things more simple, and the only thing similar to a chip are the two wildcards for transfers, which the official FPL also applies.
Considering the time of the price changes, you might want to know that they happen at random times, whenever a drastic demand increase or decrease happens.
There are also some slight points scoring differences. At Fanteam, the midfielder and forward receive 1 point more if they play the entire game. There are also no bonus points, instead they implied an "impact" factor, which is awarded to the player with a positive or negative point, depending on whether the team was winning or losing while he was on the pitch. The entire rules can be found at Fanteam.
Conclusion
We believe that the season long FPL game at Fanteam is an excellent option for those, who are looking to raise the stakes a bit. It can be played easily alongside the official FPL game, since the main concept is very similar and the prices don't vary too much either.
We, at FISO, are definitely looking forward to play tournaments at Fanteam this season and we will keep you updated along the way.