If you want some of the most powerful Fix tools at your fingertips, without having to leave the Official Fantasy Premier League (FPL) website, then look no further than FPL Plus – the browser extension for Google Chrome.
Packed with game-changing features, all in one place, FPL Plus will supercharge your Fantasy Premier League experience. This guide will talk you through the tools on offer and how to get the most out of the new features.
Points Tab
The first thing you will notice is the enhancements to the Points tab. The new look FPL website shows your Gameweek points, average points, highest points and your Gameweek rank, as well as the number of transfers made prior to that Gameweek.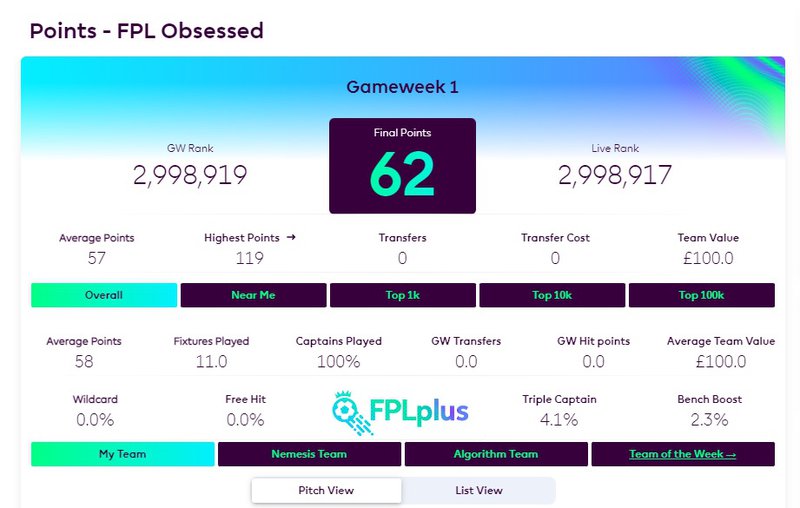 With FPL Plus, you get a lot more information, including Transfer Cost, Team Value, Fixtures Played, Captains Played and Average Team Value. From here, you can also see statistics such as the percentage of managers who have played their Wildcard – or other chips – so you can compare your situation to all the other FPL managers playing the game. Alternatively, you can use the rank tier buttons to refine the data so that it only considers managers who are an immediate threat to your rank.

Team View
The iconic Team View has also been enhanced with even more useful information.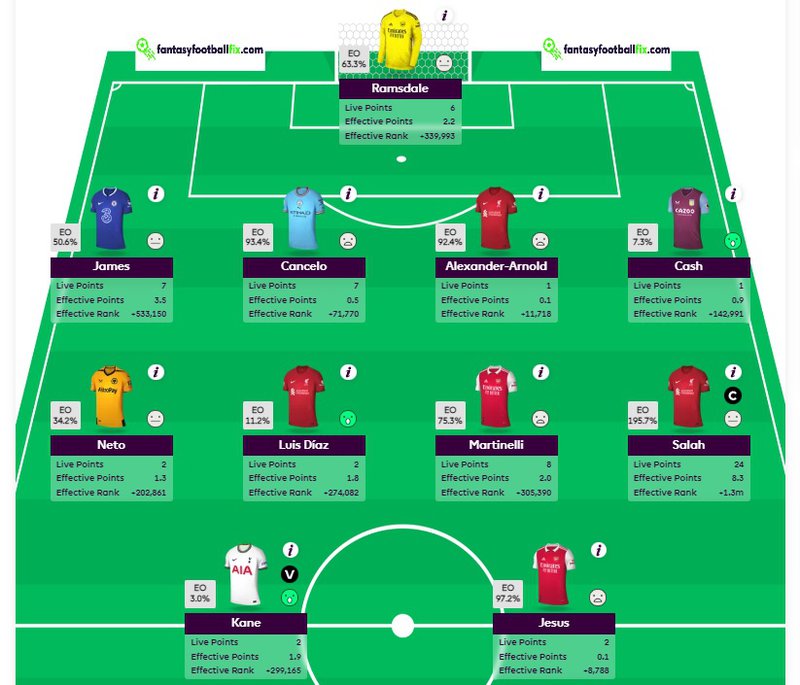 During a Gameweek, you will be able to see Effective Ownership statistics (which includes how many times that player has been captained), as well as that player's Live Points, their Effective Points (which shows how much you will benefit from the points that player earns) and the Effective Rank (which shows the effect that player is having on your Overall Rank).
For managers in a rush, we have developed a 'quick glance' system which places a custom emoji by each player so you can quickly see the impact that player will have on your team if he gets a return.
Nemesis Team
As we know, FPL is not all sunshine and roses, and of course there will be players who you don't own that will have an adverse impact on your rank. The Nemesis Team shows you 15 players who are causing you the most damage as the Gameweek unfolds.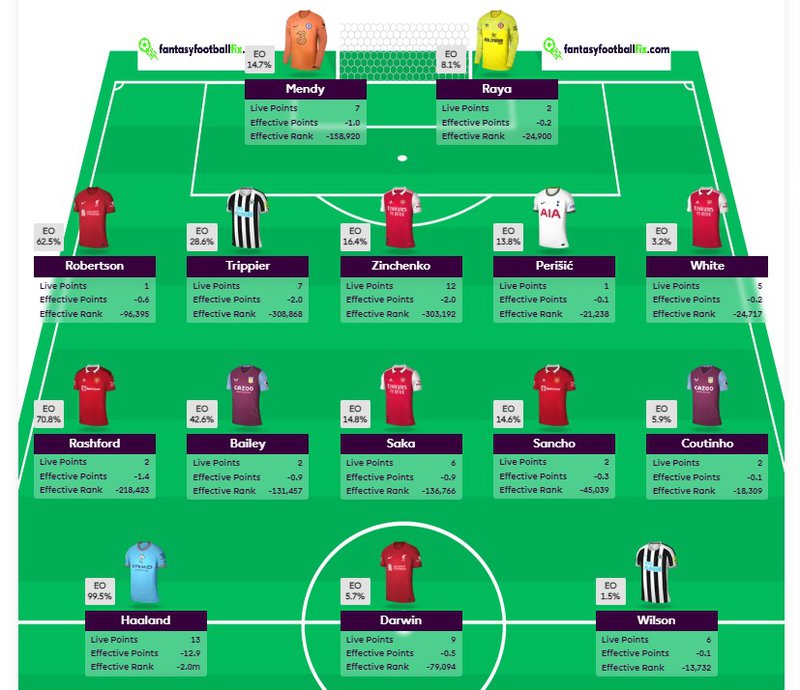 Algorithm Team
Finally, the Algorithm Team is a squad picked by the Fix Algorithm to score the most projected points in the coming Gameweek. It has the budget of an average Top 100k manager and can be used to check if your squad is heading in the right direction.
Links
Finally, you will find some easily accessible links to some of our most popular tools (Match Opta Stats, Live Insights and Fix Rivals)
Pick Team Tab
When the matches have finished and the points have been counted, this is where the proper planning begins and managers head over to the Pick Team tab. This is where the FPL Plus enhancements will give you the edge over your mini-league rivals and ensure you don't have to leave the Official FPL website to get key information.
Fixture Analyser
Data is taken from the FDR and placed under each player for convenience. At a glance, managers can see which players are long-term holds and which players may need to be moved on. Managers can shuffle their bench around to cover players who have poor fixtures, using the intuitive colour-coded dots.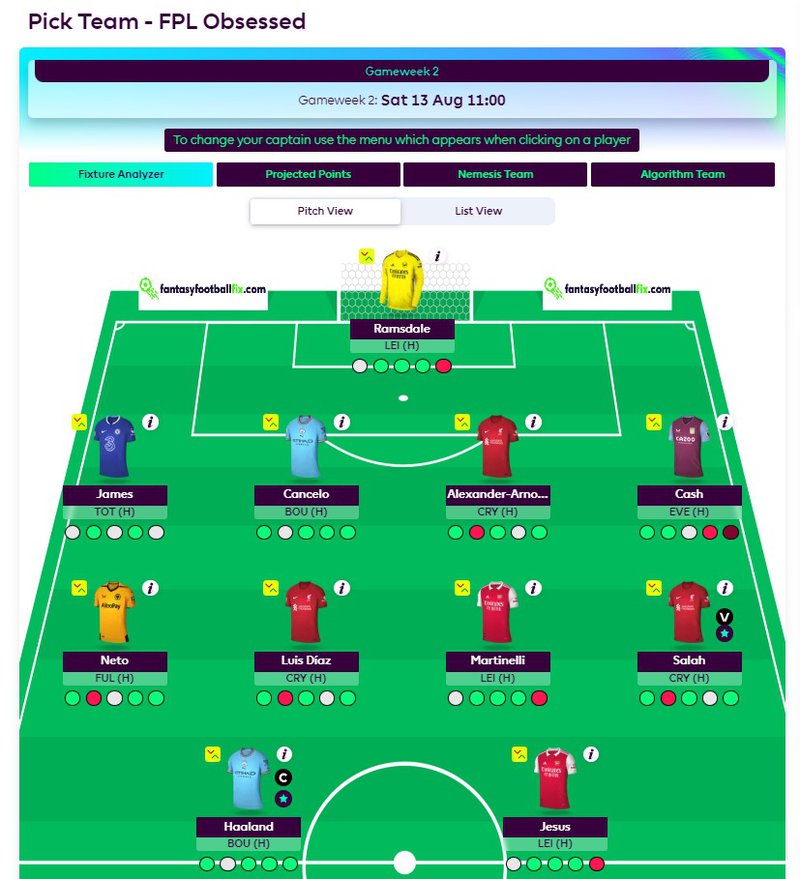 Projected Points
Powered by the Algorithm, the Projected Points sub tab allows you to see what each player is predicted to earn in the next three Gameweeks, using colour-coded dots to help make more efficient planning.
Monitoring player prices is one of the more frustrating aspects of FPL, but we have that covered on the Transfers tab. Understanding your budget is a lot easier when you can track the purchase price and selling price of each player.
In addition, you can keep an eye on any of your players who are due a price change by flicking over to the Price Change sub-tab. Here you will be alerted to any players whose value may go up or down overnight.
In addition, you can keep an eye on any of your players who are due a price change by flicking over to the Price Change sub-tab. Here you will be alerted to any players whose value may go up or down overnight.
Price Changes Tab
Perhaps more important than monitoring your own players' prices, is keeping an eye out for the players on your Watchlist. For that, we have created the Price Changes tab. This area will show you the key information from the Price Change Predictor, for all the players in the game. Crucially, find out when the price change is going to happen and beat your rivals to it.
Fix Account Synchronisation
And if all that wasn't enough, the FPL Plus Google Chrome Extension allows you to keep your FPL squad securely synchronised with your Fix account without the use of your FPL password, so that manually re-loading is a thing of the past.