It's time for the eleventh running of the FISO Fed-Ex Cup competition.
Only the two weeks left of the play-offs, so it's a bit of a sprint this year.
What you have to do is
pick 8 players, 2 from each of the 4 groups below
: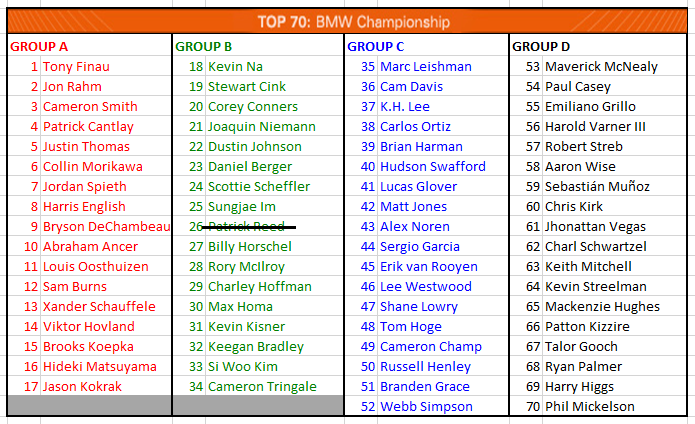 Their performance against par will then become your score, with the cumulative best score over the 2 weeks winning.
The Hall of Fame is as follows:
2011

SamD

won it with -104
2012

Nevblake

took the honours with -90
2013

Trickster1

won with -104
2014

Horton Mumblemouse

won with -79
2015

filmstar40

with just -38
2016

Nevblake

triumphed again with -85
2017

Man United's #1 Fan

came out on top
2018

sportsmeister

bested us all with a frankly ridiculous -154
2019

SamD

won it with -78
2020

Lister

won it with -49
Please note however, that only one of your two selections in each group can score in any one round. Therefore when you post your teams you must state what rounds you want them to be 'live' in.
eg.
Group A
Rahm rounds 1 & 3
Burns rounds 2 & 4

Group B
Im round 1
Na rounds 2, 3 & 4

Group C
Ortiz rounds 1 & 3
Glover rounds 2 & 4

Group D
Wise rounds 1 & 3
Casey rounds 2 & 4
One player can play all 4 rounds if you wish.
If one of your 'live' players does not complete the round or WD's, you will score +3 for that round.
If any of your players miss the cut (or MDF) they will be allocated a score of +3 for the remaining rounds.
However, to avoid a missed cut (or if you simply think your selection is going to score badly) you are allowed to swap your 'live' player with your other selection in that group up to 12 mid-day (UK time) before the start of any of the 4 rounds (I will vary this time tournament by tournament, depending on tee times). Simply post your transfer on the thread.
So you can tinker round by round if you wish, or just roll the dice at the beginning of each week!
If there is a tie, the team with the best score in the Tour Championship will win. If still a tie, then the team with the best score in the final round, then the best scoring player in the final round if necessary.
Prize
The winner this year will win a
£20 bet on the BMW PGA at Wentworth
The runner-up will win a
£10 bet on the BMW PGA at Wentworth
Third place will win a
£5 bet on the BMW PGA at Wentworth
Deadline to select your players this week is 2.40pm Thursday
Good luck, and watch out for anyone dropping out.
Team selection skeleton 1:

Group A
1st player rounds 1 & 3
2nd player rounds 2 & 4

Group B
1st player rounds 1 & 3
2nd player rounds 2 & 4

Group C
1st player rounds 1 & 3
2nd player rounds 2 & 4

Group D
1st player rounds 1 & 3
2nd player rounds 2 & 4
Team selection skeleton 2:
Group A
1st player rounds 1,2,3 & 4
2nd player - reserve
Group B
1st player rounds 1,2,3 & 4
2nd player - reserve
Group C
1st player rounds 1,2,3 & 4
2nd player - reserve
Group D
1st player rounds 1,2,3 & 4
2nd player - reserve