The dust hasn't yet settled on the extended 2019/20 Premier League season and FanTeam have already launched their truly massive 2020/21 Fantasy Premier League game. This is open to enter now via FanTeam's very user-friendly website and app, with the first matches starting 12 Sep 2020. A guaranteed prize pool of €1 million, with a life-changing €200,000 to the winner, grabs the attention. Here are the prizes at the very top (prizes are paid out to the top 5,659 places):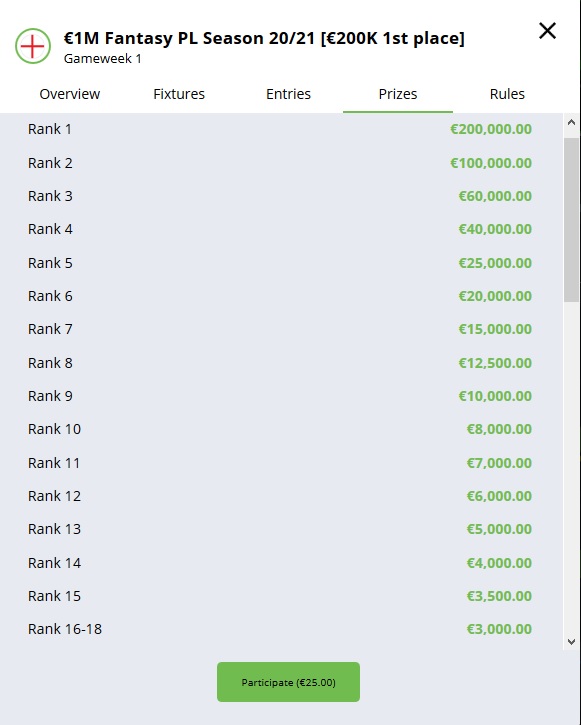 The game rules look the same as in their 250k game for 2019/20 which was won by Aleksandar Antonov with his single entry who also incredibly won FPL in 2019/20 as well. Below is a copy of his final team line-up for 2019/20 GW38:
And here is a copy of the main FanTeam rules for the 2020/21 season:
Not surprisingly the usual suspects head the player price list for 2020/21:
The game allows up to 75,000 entrants at €25 per entry. It is possible that the number of teams entered will be closer to the 40,000 mark (€25 x 40,000 = €1,000,000) but if it exceeds that then the prize fund will grow. In 2019/20 the guaranteed prize fund was €250,000 rather than €1 million and the number of entrants at €25 each was 8,825 which equates to €220,625 in entry fees.
The launch of FanTeam's Fantasy Premier League game for 2020/21 has given Fantasy Football in the UK a huge boost. It will prove to be a popular option for Fantasy Premier League fans (aged 18+ only) and will provide some enormous rewards to the most skilled/lucky entrants with everyone in the top 50 winning at least €1,000.