FISO are starting a new series of weekly articles on Fanteam, Europe's biggest daily fantasy football provider (and entering the team that we write about!). This series will focus on Fanteam's Weekly Monster, a weekly fantasy league based on the weekend Premier League games. Our article will focus on a Early Entry for this weekly tournament which will help you identify game rules, tactics and the most promising players per gameweek so you can win some of that large prize money.
This gameweek round, due to the winter break, is split up into two weekends. As a result, the classic Fanteam Weekly Monster format with a 50,000 euro prize pool based on nine Premier League games was replaced last weekend by the Weekend Big Four 15k and for this weekend by the Weekend Big Five 20k . The concept is identical, but it involves only the five games of GW26 that are being played this weekend and the prize pool sits at 20,000 euros.
Before moving onto our team selection, we want to highlight a couple of Fanteam rules that they apply to their Weekly Monster competition and that represent some of the major differences when comparing the game to the FPL.
Number one is that FanTeam have a rule called the 'safety net'. The safety net comes into play when a selected player does not start in the Weekly Monster, because the game will then automatically replace this player with the next lowest-priced player from the same position (GK, DEF, MID, FOR) in the same team. By 'next' lowest we mean if our player (who doesn't start) is priced at 7m and two players priced less than him at 6.8m and 6.5m start then our replacement will be the 6.8m player. The automatic replacement is regardless of whether or not your selected player does take to the field later in the game. This rule means people who have entered a team into the Weekly Monster need not worry too much about whether their selected players will start or not, particularly if they know there are cheaper players for that same club in that same position who should start instead.
Number two is that FanTeam also have a 'stacking penalty' for the Weekly Monster, which penalises teams that have selected more than one defenders/goalkeeper from the same club. The stacking penalty comes into play when you pick more than one defensive player (defenders or goalkeepers) from a particular club and this club records a clean sheet. The points awarded for this clean sheet will decrease by 1 point for each additional defensive player from the same club that you have selected. The stacking penalty has a maximum of minus 3 points. This rule helps stop multi-entrants from gaining an advantage by submitting block defence teams.
The deadline for this gameweek is set at 12h30 (UK time) on Saturday, February 15th, 2020.
Gameweek 26 Weekend Big Five matches
| | | |
| --- | --- | --- |
| 15/02/20 12:30 | Southampton | Burnley |
| 15/02/20 17:30 | Norwich | Liverpool |
| 16/02/20 14:00 | Aston Villa | Spurs |
| 16/02/20 16:30 | Arsenal | Newcastle |
| 17/02/20 20:00 | Chelsea | Manchester United |
Our team for the Weekend Big Five 20K in gameweek 26 – part 2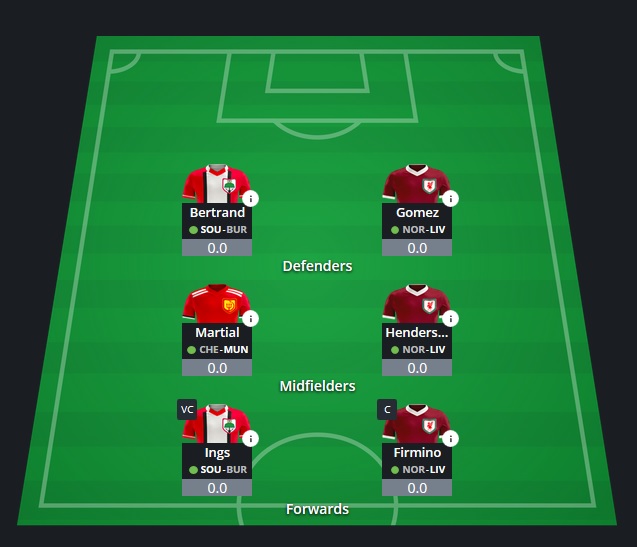 Formation: 2-2-2 |  Budget used: €54.9m (budget 55m)
Goalkeeper
Instead of recommending a goalkeeper here, as we would usually do, we're using this space instead to elaborate a bit on this week's Big Five game, starting with why we haven't selected a goalkeeper this week. In the second weekend of gameweek 26 of Fanteam's Weekly Monster, called the Weekend Big Five, the number of available matches to pick players from was reduced to five and instead of selecting 11 players, we had to select just 6. We could do so in any formation we wanted (a 0-3-3, for example), there was no limit on the number of picks from a specific team, and there was no possibility to select a goalkeeper this week.
The second part of this gameweek provides us with a bit more variation when it comes to favourable fixtures, with Liverpool visiting Norwich, Southampton hosting Burnley, Arsenal welcoming Newcastle to the Emirates and Spurs going to Villa Park. The clash of the weekend is the Monday night encounter between Chelsea and Man United. On paper, the Southampton home game and the Liverpool away game are probably the most appealing fixtures this weekend, but due to the high prices of Liverpool assets and the relatively heavy price tags of Saints players, it was quite hard to load our team with potentially big-hitters from just those two teams. We have ended up going for three Reds, two Saints and one part differential, part punt, part budget-enabler in a 2-2-2 formation. We will also have a chance to see the starting line-ups for Southampton but it's only their match v Burnley that fantasy managers can see the starting line-ups for this weekend before the entry deadline. Fingers crossed that neither the Liverpool or Southampton matches are postponed (for more than 48 hours) as the Man City v West Ham match was last weekend which meant the Man City players on our team scored no points.
Defenders
After 9 clean sheets in the last 10 Premier League games, it was kind of hard not to start off our defensive picks for the Weekend Big Five with a Liverpool player. Out of budget considerations, we have gone with Joe Gomez. Coincidence or not, Liverpool's previously mentioned run of clean sheets started in gameweek 16, when Gomez got his first full 90 minutes since gameweek 1. Contrary to his fellow Reds defenders, the young Englishman has not recorded any attacking return over that period, which explains his lower price in the Big Five this weekend as well, but he did total 58 points in the official Fantasy Premier League game (9 clean sheets, 5 bonus points). In the Big Five this weekend, only Matip and Williams are cheaper defenders than Gomez, which largely removes the safety net for this pick in case he doesn't start at Carrow Road. That is, unless Matip starts in his place, but we expect Gomez to be in the starting lineup on Sunday.
Our second defender this weekend is Southampton left-back Ryan Bertrand, who is facing Burnley at Saint Mary's. The Saints have been improving defensively of late, with all of their three clean sheets this season coming in the last 8 games (Chelsea away, Spurs home, Palace away), while only Norwich, Watford, Bournemouth and West Ham have netted fewer times on their travels than Burnley's 12 goals. In other words, this could turn out to be a low-scoring affair, though with the Premier League you never quite know. As far as Bertrand himself goes, his season has been relatively quiet this season, with 3 clean sheets, a goal and an assist from 25 games to his name so far. He does play on the far left of manager Ralph Hasenhüttl's five-men defence, which sees him positioned higher up the pitch for large parts of their games. We are hoping that Burnley manager Sean Dyche will have a defensive approach to this game that allows Southampton's defenders to have possession closer to the Burnley goal, and that Bertrand will benefit from this in terms of returns at both ends of the pitch.
Midfielders
Seeing as we have gone heaviest in attack this weekend, our midfield consists of Jordan Henderson and Manchester United's Anthony Martial. The former is in great form with 2 goals, 2 assists and 2 clean sheets from his last 3 Premier League games, while the latter is not in great form with just a single goal over his last 4 PL games.
Henderson is not only a sure starter in Jurgen Klopp's ideal eleven, but the captain of the Reds as well. The England international has been going through something of purple patch lately, as he is not generally known as a fantasy asset that provides regular attacking returns. After 25 games this season, he sits on 3 goals and 4 assists, of which, like we wrote earlier, 2 goals and 2 assists came since gameweek 24. Up next for the Reds is Norwich and no team has conceded more at home than the Canaries 25 goals in 12 games (if we are ignoring the 0-9 result from the Soton-Leicester game in GW10). At the same time, Liverpool has already scored 25 times away from home and 9 of those goals were scored in their last 4 away games. With Leicester, Spurs, Wolves and West Ham the opponents in those games, we are hoping that Norwich won't be too much of an obstacle to scoring a few more on Sunday.
Then there is Anthony Martial, largely struggling out-of-position striker at a largely struggling Manchester United side. The Frenchman's price tag in the Weekend Big Five played a big role in this pick, because looks like one of the picks with most (differential) potential after having loading up on Liverpool and Southampton players. There is a bit more to it though, because Chelsea have actually been far from stable in front of their own fans this season.
| | | | |
| --- | --- | --- | --- |
| | TOTAL | HOME (% of total) | AWAY |
| GOALS SCORED | 43 | 16 (37%) | 27 |
| GOALS CONCEDED | 34 | 12 (35%) | 22 |
| POINTS | 41 | 18 (44%) | 23 |
| PL RANKING | 4th | 10th | 3rd |
We are not saying that United are favourites here, the Red Devils have their own issues to deal with after all, but we can see them being successful on the counter in this one, despite Rashford's absence. Martial and co have shown this season that they are more comfortable when the other team dominates possession and seeing as that is what we expect from Chelsea in this game, there might be something in it here for the Frenchman on Monday. After three consecutive blanks, he will be desperate to return to the form he displayed between gameweeks 19 and 22 (4 goals in 4 games).
Forwards
Most of our budget for the Weekend Big Five has been spent on forwards, starting with Liverpool's Roberto Firmino. As basically every season since arriving from Hoffenheim in June of 2015, the Brazilian attacker is proving a key cog in Jurgen Klopp's highly successful formation. He has scored 8 goals and provided the same number of assists so far this season, and the first of those returns (an assist in GW1) actually came at Anfield against Sunday's opponents, Norwich. Apart from the fact that Bobby is as nailed-on a starter as they come in the Premier League, there is another, statistically viable reason for splashing the cash on him this weekend, namely his away record this season: all of his goals and 1 of his assists was recorded away from Anfield. The Canaries boast the Leagues leakiest defence in total (47 goals conceded, joint with Villa) and in home games (25 conceded, joint with West Ham and not counting Southampton's 0-9 defeat). We figured that the combination of Firmino's excellent away form and Norwich' general defensive issues has all of the makings of a big haul. He is also our captain.
In attack, the Liverpool man is joined by Southampton striker Danny Ings, who is having the most prolific campaign of his Premier League career this season. It's true that he hasn't recorded an attacking return since gameweek 22, but it should be noted that the three games since then saw him face Wolves at home (completed the 90 minutes), Palace away (played 20 minutes) and Liverpool away (played 69 minutes). Between GW7 and GW22 though, the English forward scored an impressive 13 goals to bring his season tallies to 14 goals and 1 assist. The first game of the Weekend Big Five is Southampton's encounter with Burnley at Saint Mary's and we're hoping that this is the one in which Ings finds his scoring boots once again to go on another goal-scoring run of game-changing proportions. As far as the Clarets go, they are having a decent mid-table season overall, but the 20 goals conceded in just 12 away games will probably be worrying manages Sean Dyche a bit, especially now that his men are preparing to face one of this season's most lethal strikers. Ings is also our vice-captain this weekend.
This team has been entered into the 20 euro FanTeam Big Five 20k and we hope to report back next week that we've shared part of the 15,000 euros prize pool. You can also follow discussions about FanTeam games on FISO's FanTeam Forum. FISO members could win free 'Weekly Monster' entries (worth 20 euros) via the FISO FanTeam forum. There are freerolls for new entrants if registered within the last 8 weeks. Read all about a fiso member who won 30,000 euros on FanTeam from just a 2 euro entry fee. FanTeam have also just launched a 500,000 euro Fantasy Premier League game.