As part of FISO's special series of weekly articles on FanTeam, Europe's biggest daily fantasy football provider, we will actually be entering the team we write about each week into the game. This series will focus on FanTeam's Premier League Main Event, a daily fantasy league based on the Premier League games. Our article will focus on an Early Entry for this weekly tournament to help you identify game rules, tactics and the most promising players per gameweek, so you can win some of that large prize money.
Our FISO team below will be entered into this week's €20 entry (€50k prize pool) Main Event, which has a maximum entry limit of 3,334 participants. Every week, we'll report back on how our team performed in the previous week. A finish in the top 556 would see us win part of the prize pool of which the winner takes home a cool €7,500. FanTeam also offer a €2 entry Weekly Monster with a lower prize pool (of which the winner should get about €1,000) for those who prefer to play with lower stakes.
Before moving onto our team selection, we want to highlight a couple of FanTeam rules that they apply to their Weekly Monster competition and that represent some of the major differences when comparing the game to the FPL.
Number one is that FanTeam have a rule called the 'safety net'. The safety net comes into play when a selected player does not start in the Weekly Monster, because the game will then automatically replace this player with the next lowest-priced player from the same position (GK, DEF, MID, FOR) in the same team. This is regardless of whether or not your selected player does take to the field later in the game. This rule helps people who have entered a team into the Weekly Monster not to worry too much about whether their selected players will start or not, particularly if they know there are cheaper players for that same club in that same position who should start instead.
Number two is that FanTeam also have a 'stacking penalty' for the Weekly Monster, which penalises teams that have selected more than one defenders/goalkeeper from the same club. The stacking penalty comes into play when you pick more than one defensive player (defenders or goalkeepers) from a particular club and this club records a clean sheet. The points awarded for this clean sheet will decrease by 1 point for each additional defensive player from the same club that you have selected. The stacking penalty has a maximum of minus 3 points. This rule helps stop multi-entrants from gaining an advantage by submitting block defence teams. A reasonable tactic can be to select two players from two different clubs for your Goalie and Defenders, which would see you incur just 2 single-point deductions if you nail both clean sheets correctly.
Finally, the Pursuit format is being applied to the upcoming FanTeam Weekly Monster. In this game mode, you get more bonus points the cheaper your players are (you gain 1 point for every 2.5 million euros underspent). Your captain will get double points, but he will also cost twice as much. Your vice-captain will get 150% more points, but he will also cost 150% more. You can read about Pursuit in more detail on the FanTeam website.
Don't forget, the deadline for gameweek 36 FanTeam's Main Event is set at 18h00 (UK time) tomorrow Wednesday, July 15th, 2020. You can enter a team earlier and make changes right up to the deadline. This means you have an hour to check the starting line-ups for the matches.
Gameweek 36 Weekly Main Event matches
How did our team fare in gameweek 34+?*
| | | |
| --- | --- | --- |
| NAME (club) (opponent) | RETURNS | POINTS |
| C De Bruyne (CIT) v Newcastle (H) | 1 assist, clean sheet, Impact+1 | 16 |
| Mahrez (CIT) v Newcastle (H) | 1 goal, clean sheet, Impact+1 | 9 |
| Foden (CIT) v Newcastle (H) | Clean sheet, Impact+1 | 4 |
| Traoré (WOL) v Sheffield Utd (a) | Clean sheet | 3 |
*There was no FanTeam Main Event in GW35+.
Our team suggestion for the Weekly Monster in gameweek 36+
Formation: 2-3-1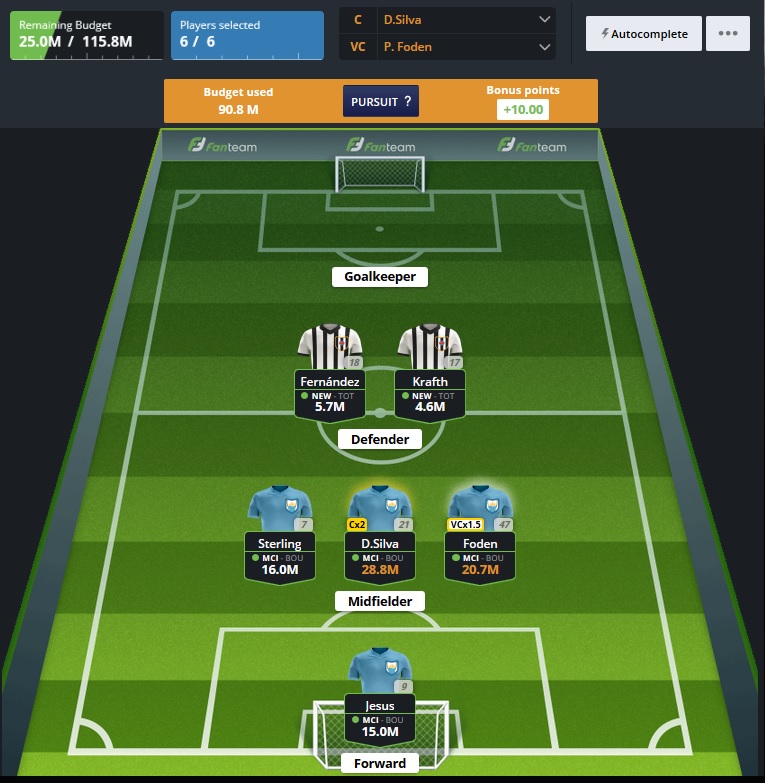 General approach
For gameweek 36+, FanTeam are offering us another €50K Main Event, this time based on team selections of six players in Pursuit mode. Seeing as the tournament revolves around just three matches, namely those starting at 18h00 (UK time) on Wednesday, standing out this week will likely be quite a task. For this week, we decided to go big on two teams with four fantasy picks from match day favourites Manchester City and two Newcastle assets as the Magpies welcome Spurs to Saint James' Park. The Cityzens are facing Bournemouth at the Etihad for which we hope will be another Man City goalscoring bonanza, while we have differential hopes for Newcastle's defensive assets against a largely toothless Spurs side.
Manchester City
Raheem Sterling, David Slva, Phil Foden & Gabriel Jesus
So, Manchester City have won their last two Premier League games by five goals to nil, first against Newcastle at the Etihad and after that at the AmEx in Brighton, and up next is a home game against relegation-threatened Bournemouth. It's true that the Cherries surprised most of the football world by being the instigators of a game-changing Leicester collapse in gameweek 35+, but their next encounter looks a bit like a match made in hell (for them, that is). Since football returned and before last weekend's game, Bournemouth had taken just 1 point from five games, a run over which they conceded 12 goals and scored just 3 (and 2 of those goals came in the 5-2 defeat against Man United).
It's been a different story for City since the return. The Cityzens played seven games already from which they have taken 15 points. In order to give you a bit of a better idea of City's performances since the coronabreak ended, we created a simple table:
| | |
| --- | --- |
| HOME games | AWAY games |
| Arsenal (3-0) | |
| Burnley (5-0) | |
| | Chelsea (2-1) |
| Liverpool (4-0) | |
| | Southampton (1-0) |
| Newcastle (5-0) | |
| | Brighton (0-5) |
We don't know yet if this is a big enough sample to extrapolate a kind of "away game complex" from (we don't think so, to be honest), but what we do know is that the home record of Pep Guardiola's men over the past four games is 17 to nothing. It feels almost surreal to say, but another 4 or 5 nil victory is not only possible here, but likely as well.
As a result, we've gone with four City players for gameweek 36+, the maximum number of players allowed to be selected for a single team. Of course, with the FA semi-finals on the agenda for the coming weekend, in which City roll up to the Emirates on Saturday, rotation once again looms over our City picks. Fortunately though, we will know City's starting lineup about an hour before the FanTeam GW36+ €50K Main Event deadline is up, which removes this risk (but also the accompanied potential differential factor) completely. We picked Raheem Sterling, David Silva, Phil Foden and Gabriel Jesus (Silva & Foden only getting less than 30 minutes run out in their last match) for our team this week, but they are absolutely subject to change particularly if KDB and Marhez start. We strongly recommend to check out the Man City lineup from around 17h00 (UK time) on Wednesday in order to adjust your FanTeam fantasy selection accordingly.
On top of that, coach Pep Guardiola has actually hinted at increased rotation over the coming weeks as the FA Cup continues and preparations for the Champions League start as well. At the moment, one might expect David Silva and Phil Foden to start (after coming on just after the hour mark in the last match) and that their only 'striker' Jesus (who was withdrawn again just after the hour mark) will also start against Bournemouth, with Raheem Sterling seemingly too in-form to drop (see table below). Then again, "undroppable" is definitely not part of Pep's vocabulary. Mahrez is most likely to sit out the coming encounter as he has had 90 minutes and 75 minutes of Premier League football under his belt from the past two games, respectively. Considering Phil Foden's little playing time in recent games, the talented Englishman could be a worthy replacement for KDB, just like David Silva.
| | | | | | |
| --- | --- | --- | --- | --- | --- |
| Player | Last 4 games | Goals | Assists | Bonus points | Total FPL points |
| R. Sterling | 255 minutes | 5 | 3 | 6 | 48 |
Raheem Sterling's returns since GW32+
Newcastle
Federico Fernandez, Danny Rose
Our Manchester City foursome is complemented by a defensive duo from Newcastle United, Federico Fernandez and Emil Krafth. We were considering whether to have a Newcastle duo or a Wolves duo, but in the end we went with a couple of Magpies, partly due to their budget-friendly prices and partly with the lack of attacking threat at Spurs in mind. Of course, we don't mean the lack of attacking talent, as the likes of Son, Kane, Moura and Bergwijn possess enough of it to worry any and every defence in the world, but the lack of effective attacking moves produced by José Mourinho's men. After a horrid display with no shots on goal against Bournemouth in GW34+, Spurs slightly improved versus in Arsenal a gameweek later. Still, their first goal was the result of a bad back-pass latched onto by Son, while the second goal was a corner. Having watched the entire game, we feel that by looking at the score alone alone, some FanTeam and fantasy managers might be fooled into thinking that Spurs do score goals. They absolutely have the players for it, but for the moment their attacking creativity and output is considerably below par.
Now, it's not like Newcastle have been so tight in the back of late, but we know that Steve Bruce's men can defend. Their 11 clean sheets this season are witness to this, though the last clean sheet came back in gameweek 30+, when Newcastle were still playing for early safety from relegation. The
fact that they are no longer playing for anything but honour now, basically, is also the main caveat to our decision to go with the Magpie defence. At the same time, Spurs are chasing a Europa League spot, especially after the 2-1 victory over Arsenal a few days ago. It's a bit of a risky punt to put our
money on the Newcastle defence in this scenario, but we think there is a possibility for a very frustrating night at Saint James' Park for Mourinho on Wednesday.
As we said this team has been entered into the 20 euro FanTeam Premier League 50k Main Event and we hope to report back next week that we've shared part of the 50,000 euros prize pool. You can also follow discussions about FanTeam games on FISO's FanTeam Forum.