As part of FISO's special series of weekly articles on FanTeam, Europe's biggest daily fantasy football provider, we will actually be entering the team we write about each week into the game. This series will focus on FanTeam's Premier League Main Event, a daily fantasy league based on the Premier League games. Our article will focus on an Early Entry for this weekly tournament to help you identify game rules, tactics and the most promising players per gameweek, so you can win some of that large prize money.
Our FISO team below will be entered into this week's €20 entry (€50k prize pool) Main Event, which has a maximum entry limit of 3,500 participants. Every week, we'll report back on how our team performed in the previous week. A finish in the top 556 would see us win part of the prize pool of which the winner takes home a cool €7,500. FanTeam also offer a €2 entry Weekly Monster with a lower prize pool (of which the winner should get about €1,000) for those who prefer to play with lower stakes.
Before moving onto our team selection, we want to highlight a couple of FanTeam rules that they apply to their Weekly Monster competition and that represent some of the major differences when comparing the game to the FPL.
Number one is that FanTeam have a rule called the 'safety net'. The safety net comes into play when a selected player does not start in the Weekly Monster, because the game will then automatically replace this player with the next lowest-priced player from the same position (GK, DEF, MID, FOR) in the same team. This is regardless of whether or not your selected player does take to the field later in the game. This rule helps people who have entered a team into the Weekly Monster not to worry too much about whether their selected players will start or not, particularly if they know there are cheaper players for that same club in that same position who should start instead.
Number two is that FanTeam also have a 'stacking penalty' for the Weekly Monster, which penalises teams that have selected more than one defenders/goalkeeper from the same club. The stacking penalty comes into play when you pick more than one defensive player (defenders or goalkeepers) from a particular club and this club records a clean sheet. The points awarded for this clean sheet will decrease by 1 point for each additional defensive player from the same club that you have selected. The stacking penalty has a maximum of minus 3 points. This rule helps stop multi-entrants from gaining an advantage by submitting block defence teams. A reasonable tactic can be to select two players from two different clubs for your Goalie and Defenders, which would see you incur just 2 single-point deductions if you nail both clean sheets correctly.
Finally, the Pursuit format is being applied to the upcoming FanTeam Weekly Monster. In this game mode, you get more bonus points the cheaper your players are (you gain 1 point for every 2.5 million euros underspent). Your captain will get double points, but he will also cost twice as much. Your vice-captain will get 150% more points, but he will also cost 150% more. You can read about Pursuit in more detail on the FanTeam website.
Don't forget, the deadline for gameweek 34 FanTeam's Main Event is set at 18h00 (UK time) tomorrow Wednesday, July 8th, 2020. You can enter a team earlier and make changes right up to the deadline. This means you have an hour to check the starting line-ups for the early match.
Gameweek 34 Weekly Main Event matches
How did our team fare in gameweek 33+?*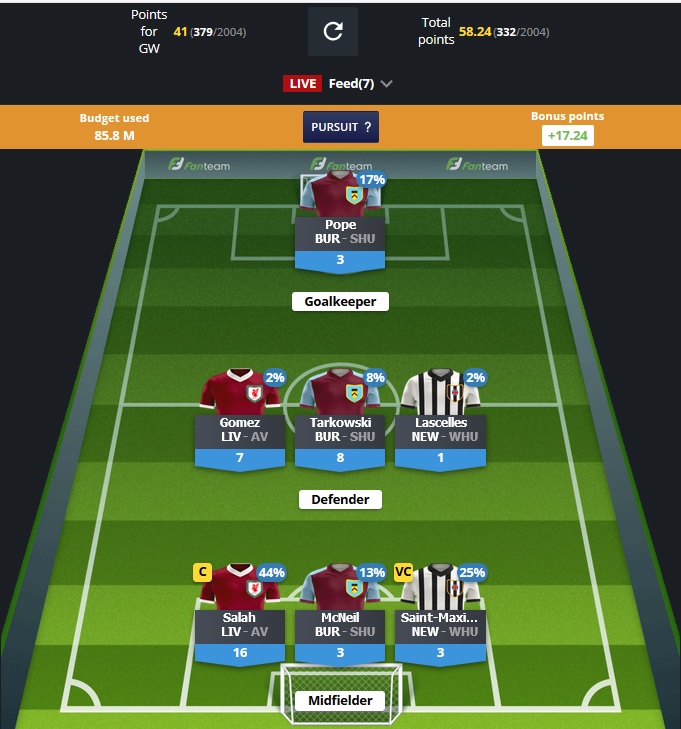 | | | |
| --- | --- | --- |
| NAME (club) (opponent) | RETURNS | POINTS |
| Pope (BUR) vs Sheffield United (H) | 2 saves | 3 |
| Gomez (LIV) vs Aston Villa (H) | Clean sheet, Impact+1 | 7 |
| Tarkowski (BUR) vs Sheffield United (H) | 1 goal | 8 |
| C Salah | Assist, clean sheet, Impact+1 | 16 |
Our team suggestion for the Weekly Monster in gameweek 34+
Formation: 2-5-0 |  Budget used: 100.0m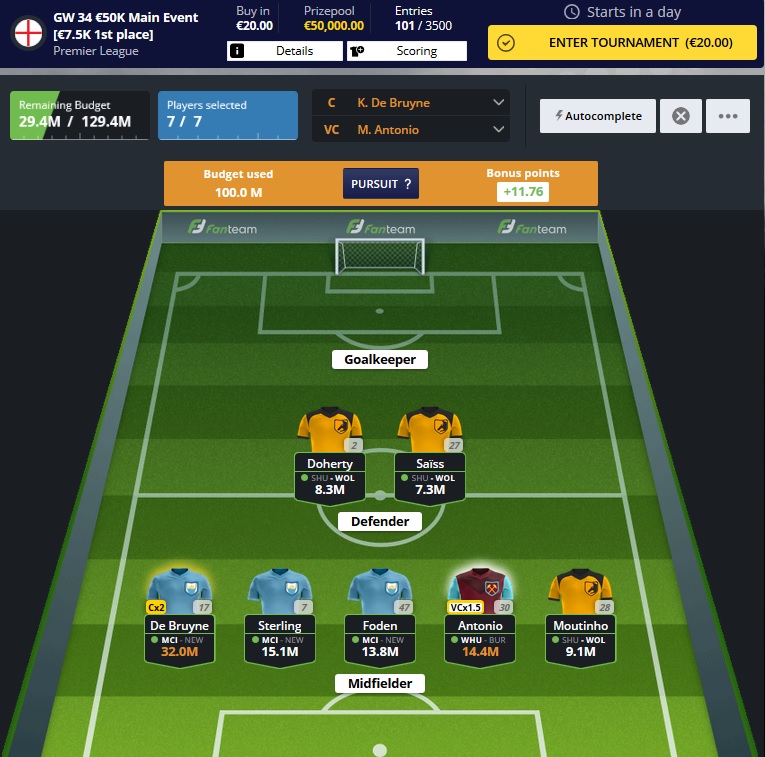 General approach
There is a relatively big disparity in player prices for FanTeam's GW34+ €50K Main Event this week. On the one hand, we have Man City's and Liverpool's assets facing favourable opposition (Newcastle at home and Brighton away, respectively). On the other hand, the likes of Sheffield United, Wolves, Burnley and West Ham are playing each other in relatively even match-ups, in the sense that it would not be a big surprise to see those four teams end up in low-scoring affairs on Wednesday.
Seeing as Brighton have actually conceded fewer big chances per game than any other side in the division since Project Restart, we've shied away from Liverpool picks and went all in on a Man City side in redemption mode with three players from their roster. Surprisingly, Sheffield United are the team conceding most big chances per game (2.6) since the return of football and they are not exactly scoring for fun either, so with Pursuit mode in mind, our team boasts 3 Wolves assets as well. Finally, with West Ham looking good going forward of late, our seventh and final pick is a Hammer playing out of position.
Manchester City
Kevin de Bruyne, Raheem Sterling, Phil Foden
Last gameweek, Pep Guardiola decided to rain on the parade of more than a few fantasy managers by benching De Bruyne against Southampton and then bringing him on in the 59th minute for what ended up being the grand total of 1 point on FanTeam. They say though, that after rain comes sunshine, and after De Bruyne's benching against Southampton comes De Bruyne's return to the starting lineup against Newcastle at home. Despite having lost the title already, the general consensus in the fantasy football world seems to be that City will be wanting to make up this week for their slip-up against the Saints. The Magpies will almost certainly try and park a bus or two at the Etihad, especially with coach Steve Bruce hinting at a rest for man-in-form Allan Saint-Maximin, so we see a one-sided affair here, and one in which City hopefully will be less wasteful than they were last game.
As you can imagine, Kevin de Bruyne was the first name on our team sheet and he is also the captain of our team. The Belgian midfielder has been nothing short of spectacular this season, currently sitting on 11 goals and 20 assists and actually equalling Thierry Henry's historic record of 20 assists in a single season back in 2002-03. As mentioned earlier, he was benched in gameweek 33+, so we are not worried about his prospects of starting this week. The Magpies are in decent form after taking 8 points from four games since the return of football, but they also let in 4 goals over that run, including versus Bournemouth and Villa, some of the least prolific outfits at this moment. After sitting out the major part of GW33+, we think De Bruyne can do some damage on Wednesday.
As we're going all in on Cityzens this week, the Belgian is joined in the middle of our team by team mates Raheem Sterling and Phil Foden. Like the rest of his team, Sterling disappointed against the Saints, but he did look like one of their most dangerous men going forward and wasting all those chances. Foden then, like De Bruyne, was benched in GW33+, but the young Englishman is expected to start at home versus Newcastle after recording 14 and 13 FanTeam points in his last two home games against Burnley and Liverpool, respectively. Should any of our Man City picks not start, then we can change them based on the starting line-up plus the Safety Net would come into play if we missed doing this, seeing as our picks are more expensive then the likes of Mahrez, David Silva and Bernardo Silva this week.
Wolves
Joao Moutinho, Matt Doherty, Romain Saiss
With Pursuit mode in mind, we decided to complement our very expensive Manchester City trio with three more affordable picks from a Wolves side facing Sheffield United at Bramall Lane. While Wolves have not been particularly spectacular since Project Restart, they did manage to largely maintain their stability in terms of results, winning their first three games 0-2, 1-0 and 0-1. The GW33+ loss at home against Arsenal was a bit of a surprise, but with European football still being a very realistic goal for coach Nuno Espirito Santo's men, we're hoping for a decent response against Sheffield United on Wednesday. The Blades haven't been very prolific in front of goal since Project Restart got under way (4 goals in 5 games) while they did concede at the same time, both in terms of goals (8 conceded in 5 games) and big chances per game (2.6).
As a result, we included two Wolves defenders with offensive tendencies in our GW34+ €50K Main Event team, namely right-back Matt Doherty and central defender Romain Saiss. Doherty is actually the highest-scoring defender after the Liverpool trio of Van Dijk, Alexander-Arnold and Robertson, thanks to an impressive 10 clean sheets, 4 goals and 6 assists. Having Aubameyang as his direct opponent in GW33+ kind of stifled his attacking potential, but we're expecting more involvement up the pitch from him on Wednesday. For exactly a million less, Saiss offers a lot of potential as well with him being among the defenders with most attempts on target this season. We're hoping he will get a few opportunities to improve on one or more of his current tallies (9 clean sheets, 2 goals, 2 assists) when the Wolves visit the Blades.
In order to avoid a too harsh of a Stacking Penalty in case of a Wolves clean sheet, we opted to add a midfielder instead of a third defender. We currently have Joao Moutinho in our team due to the injury/fatigue concerns surrounding Adama Traoré, but fortunately we will know the starting lineup before the Main Event's deadline. We are covering Moutinho here, but in case Adama starts on Wednesday, we will probably replace the Portuguese midfielder with the Spanish winger, based on the latter's higher goal threat. Moutinho, though, isn't a bad pick either. As he is on many set-pieces for Wolves, he has racked up 7 assists already this season, as well as a goal. He hasn't recorded an attacking return yet since Project Restart got underway, but we're hoping this could change when he faces an uncharacteristically obliging Sheffield United defence on Wednesday.
West Ham
Michail Antonio
Finally, our joker to fill the seventh and final spot of our selection for FanTeam's GW34+ €50K Main Event, Michail Antonio. With 2 goals and 1 assist from his last two games, the West Ham forward looks to be in good form, but there is more. Since football returned, no single midfielder in the Premier League has registered more shots in the box than him, and only Martial and Mané have had more than his three big chances. Even when looking at expected goals and expected assists, Antonio comes out on top. Much of this has to do with the fact that he is registered as a midfielder on FanTeam, but deployed as a striker by coach David Moyes in real life. This will again be the case when a resilient Burnley side visit the Hammers on Wednesday. It won't be easy for them, but if they get anything out of this one, Antonio will most likely be involved.
As we said this team has been entered into the 20 euro FanTeam Premier League 50k Main Event and we hope to report back next week that we've shared part of the 50,000 euros prize pool. You can also follow discussions about FanTeam games on FISO's FanTeam Forum.