As part of FISO's special series of weekly articles on FanTeam, Europe's biggest daily fantasy football provider, we will actually be entering the team we write about each week into the game. This series will focus on FanTeam's Premier League Main Event, a daily fantasy league based on the Premier League games. Our article will focus on an Early Entry for this weekly tournament to help you identify game rules, tactics and the most promising players per gameweek, so you can win some of that large prize money.
Our FISO team below will be entered into this week's €20 entry (€50k prize pool) Main Event, which has a maximum entry limit of 3,500 participants. Every week, we'll report back on how our team performed in the previous week. A finish in the top 556 would see us win part of the prize pool of which the winner takes home a cool €7,500. FanTeam also offer a €2 entry Weekly Monster with a lower prize pool (of which the winner should get about €1,100) for those who prefer to play with lower stakes.
Before moving onto our team selection, we want to highlight a couple of FanTeam rules that they apply to their Weekly Monster competition and that represent some of the major differences when comparing the game to the FPL.
Number one is that FanTeam have a rule called the 'safety net'. The safety net comes into play when a selected player does not start in the Weekly Monster, because the game will then automatically replace this player with the next lowest-priced player from the same position (GK, DEF, MID, FOR) in the same team. This is regardless of whether or not your selected player does take to the field later in the game. This rule helps people who have entered a team into the Weekly Monster not to worry too much about whether their selected players will start or not, particularly if they know there are cheaper players for that same club in that same position who should start instead.
Number two is that FanTeam also have a 'stacking penalty' for the Weekly Monster, which penalises teams that have selected more than one defenders/goalkeeper from the same club. The stacking penalty comes into play when you pick more than one defensive player (defenders or goalkeepers) from a particular club and this club records a clean sheet. The points awarded for this clean sheet will decrease by 1 point for each additional defensive player from the same club that you have selected. The stacking penalty has a maximum of minus 3 points. This rule helps stop multi-entrants from gaining an advantage by submitting block defence teams. A reasonable tactic can be to select two players from two different clubs for your Goalie and Defenders, which would see you incur just 2 single-point deductions if you nail both clean sheets correctly.
Finally, the Pursuit format is being applied to the upcoming FanTeam Weekly Monster. In this game mode, you get more bonus points the cheaper your players are (you gain 1 point for every 2.5 million euros underspent). Your captain will get double points, but he will also cost twice as much. Your vice-captain will get 150% more points, but he will also cost 150% more. You can read about Pursuit in more detail on the FanTeam website.
Don't forget, the deadline for gameweek 33+ FanTeam's Main Event is set at 12h00 (UK time) on Sunday, July 5th, 2020. You can enter a team earlier and make changes right up to the deadline. This means you have an hour to check the starting line-ups for the early match.
Gameweek 33 Weekly Main Event matches
How did our Weekly Monster team fare in gameweek 32+?*
| | | |
| --- | --- | --- |
| NAME (club) (opponent) | RETURNS | POINTS |
| Holgate (Everton) vs Leicester (H) | Impact +1 | 3 |
| Richarlison (Everton) vs Leicester (H) | 1 goal, Impact +1 | 7 |
| Lascelles (Newcastle) vs Bournemouth (a) | Impact +1 | 3 |
| Saint-Maximin (Newcastle) vs B'mouth (a) | 3 assists, clean sheet, Impact +1 | 13 |
| VC Bellerín (Arsenal) vs Norwich (H) | Clean sheet, Impact +1 | 10.5 |
| C Aubameyang (Arsenal) vs Norwich (H) | 2 goals, 1 assist, Impact +1 | 28 |
*Finished 37th out of 2,432 players.
Our team suggestion for the Weekly Monster in gameweek 33+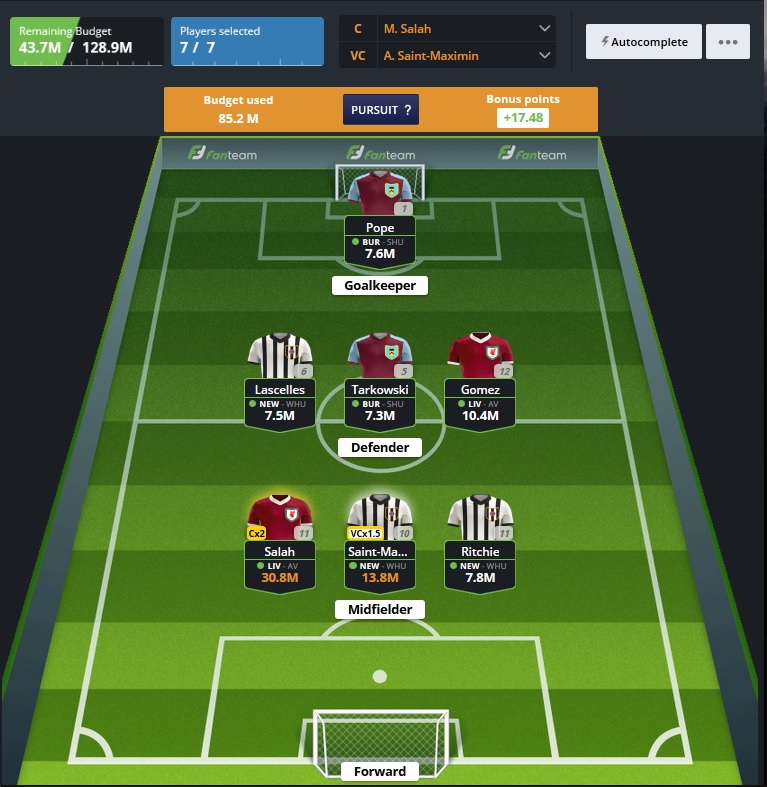 General approach
The FanTeam GW33+ €50K Main Event has presented us with four interesting matches. Liverpool and Man City are obviously the hot favourites for big victories on Sunday, against Aston Villa at home and Southampton away, respectively, but their most-promising assets are also priced accordingly. As a result, we have decided to opt for a bit more differential approach this week by selecting just 2 Liverpool players, complemented with 3 Newcastle assets as they take on West Ham at home and 2 Burnley defensive picks as they host Sheffield United. At the same time, this has left us with 17.48 bonus points in Pursuit mode, which hopefully will prove to be valuable in trying to break into the Main Event's top 100 for a second consecutive time.
Newcastle
Allan Saint-Maximin, Matt Ritchie, Jamaal Lascelles
Not Liverpool or Man City, but Newcastle United are the most represented club in our fantasy selection for FanTeam's GW33 €50K Main Event Sunday. The Magpies passed the 40-point mark in the Premier League with their emphatic 1-4 victory over Bournemouth, but they don't seem to be suffering from premature holiday symptoms at all. Their current unbeaten run of five games is their longest since the 2015-16 season and, believe it or not, since the return of football, only Man City have scored more goals than Newcastle (8 goals in 3 games). Over that same run, they conceded just twice. As a matter of fact, and to put things in perspective a bit for Steve Bruce's men: with six games to go, including three against current bottom-six opponents, the Magpies are just three points away from equalling their points tally under the immensely popular Rafa Benitez last season.
With 25 FanTeam points since Project Restart got going, courtesy of 1 goal, 3 assists, 2 clean sheets and 3 impact points, forward Allan Saint-Maximin (who is classified as a midfielder on FanTeam) has played a huge role in Newcastle's outstanding recent performances. In the last game against Bournemouth at the Vitality Stadium, the Frenchman was spared after 61 minutes and an impressive 3 assists, so we're fairly certain he will start in the upcoming home game against West Ham. The Hammers booked a great victory over London rivals Chelsea in their fight to avoid relegation, but the game at Saint James' Park is going to be a different affair. Not only are Newcastle much more stable defensively than the Blues, but they have also seriously cranked up their goalscoring average at home since football returned.
That's also why we opted for a season-first Newcastle triple for gameweek 33+, with defender-turned-midfielder Matt Ritchie and defender Jamaal Lascelles joining ASM in our team. The former had a spectacular restart of the season with a goal, an assist, 2 clean sheets and an impact point from gameweek 30+ and 31+ before being rested during Newcastle's last game. The latter practically immediately became a nailed-on starter again in Steve's Bruce defensive set-up after returning from injury. Lascelles recorded a clean sheet and 1 impact point over the past three weeks for a total of 10 FanTeam points. At home against a West Ham side involved in a full-on relegation battle, we can see returns for both of these players.
Liverpool
Mo Salah, Joe Gomez
With their recent and long-awaited Premier League title followed by a kind of surprising 4-0 drubbing against Man City at the Etihad, Liverpool have suddenly become a bit of a hard-to-gauge provider of fantasy assets. Are they going to keep performing? Is coach Jurgen Klopp going to increase rotation? It remains to be seen, but we do believe there are still a few certainties in regard to the Reds. One of them is the fact that forward Mo Salah is still in the midst of a tense battle for the 2019-20 Golden Boot (as is Sadio Mané, to a slightly lesser extent) and another is that the injuries of central defenders Lovren and Matip have enormously increased Joe Gomez' already high chances of starting games. That's also why these two are part of our GW33 €50K Main Event selection. Mo Salah failed to return anything for his backers in gameweek 32+, but he was one of the more threatening Reds. Who knows how the match would've gone down if his early attempt on the post had gone in? The Egyptian talisman is two goals behind Aubameyang in the Golden Boot ranking and against Villa, who boast the division's joint-worst defensive record, he will be looking to close that gap. Also, Villa's first-choice left-back Matt Targett is out injured for this one.
Joe Gomez then, is our way of getting a piece of the Liverpool defence against the Villans. On FanTeam, he is the least expensive of the expected starting defenders and a clean sheet looks more than possible here. Villa have actually scored just 2 goals in their four games since football returned. Against a Liverpool side undoubtedly motivated to redeem themselves after the City disappointment, we find it hard to see the Villans add to their current tally.
Burnley
Nick Pope, James Tarkowski
The final spots in our fantasy selection for GW33+ are filled by defensive Burnley assets, starting with one of this season's outstanding goalkeepers all around, Nick Pope. With 153 points, he is actually the highest-scoring goalie on FanTeam at this moment. The 5-0 loss at the Etihad upon the return of football in gameweek 30+ was painful, but Pope and the rest of the Clarets didn't let it affect them. In the two games between then and now, the English shot stopper recorded 17.5 points, courtesy of 2 clean sheets, 7 saves and 2 impact points. Sunday's opponent Sheffield United are resilient, but they haven't scored on the road since February, which must be music to the ears of the Golden-Glove-chasing Nick Pope.
The Blades' shyness in front of goal on the road combined with Burley's joint-best defensive record in the division convinced us to add James Tarkowski to our team as well. After a -1 in gameweek 30+ against Man City, the English international helped his side to two clean sheets and himself to a decent 13 FanTeam points. As a matter of fact, Burnley are unbeaten in five home games (3 victories, 2 draws) and a victory against Sheffield Utd would see them equal the club's historic record of 14 victories in a single Premier League season. On top of that, a victory on Sunday would move them within a few points of a European spot with five games still to go. A lot will depend on their defensive stability and Tarkowski could be one of the main fantasy benefactors of this.
As we said this team has been entered into the 20 euro FanTeam Premier League 50k Main Event and we hope to report back next week that we've shared part of the 50,000 euros prize pool. You can also follow discussions about FanTeam games on FISO's FanTeam Forum.