Following on from our article on the FanTeam German Monster GW29, this weekend it's time for gameweek 30 in the German Bundesliga. Our FISO team below will be entered into this week's €20 entry (€50k prize pool) German 50k Monster, which has a maximum entry limit of 3,000 participants. The first 555 will partake in the prize pool and for this particular weekend, the winner will take home a cool €7,500 this weekend. Before moving onto our team selection, we want to highlight a couple of FanTeam rules that they apply to their Weekly Monster competition and which apply to this weekend's German 50k Monster as well. If you're not sure how to play FanTeam Fantasy Bundesliga then check out our step by step video guide.
Number one is that FanTeam have a rule called the 'safety net'. The safety net comes into play when a selected player does not start in the Weekly Monster, because the game will then automatically replace this player with the next lowest-priced player from the same position (GK, DEF, MID, FOR) in the same team. This is regardless of whether or not your selected player does take to the field later in the game. This rule helps people who have entered a team into the German 50K Monster not to worry too much about whether their selected players will start or not, particularly if they know there are cheaper players for that same club in that same position who should start instead.
Number two is that FanTeam also have a 'stacking penalty' for the German 50K Monster, which penalises teams that have selected more than one defenders/goalkeeper from the same club. The stacking penalty comes into play when you pick more than one defensive player (defenders or goalkeepers) from a particular club and this club records a clean sheet. The points awarded for this clean sheet will decrease by 1 point for each additional defensive player from the same club that you have selected. The stacking penalty has a maximum of minus 3 points. This rule helps stop multi-entrants from gaining an advantage by submitting block defence teams. A reasonable tactic can be to select two players from two different clubs for your Goalie and Defenders, which would see you incur just 2 single-point deductions if you nail both clean sheets correctly.
Finally, a new format is being applied to the upcoming German Monster, called Pursuit. In this game mode, you get more bonus points the cheaper your players are (you gain 1 point for every 2.5 million euros underspent). Your captain will get double points, but he will also cost twice as much. Your vice-captain will get 150% more points, but he will also cost 150% more. You can read about the Pursuit mode in more detail on the FanTeam website.
Don't forget, the deadline for the upcoming German 50K Monster is set at 2.30PM (UK time) on Saturday, June 6h, 2020. You can enter a team earlier and make changes right up to the deadline. This means you have an hour to check the starting line-ups for the 2.30PM (UK time) games, so you can change your selections accordingly up until the 2:30PM deadline, but not after.
German 50K Monster matches in gameweek 30
How did our German 50K Monster team fare in GW29?
Formation: 4-4-2 | Budget used: 152.4m | Finish: 793 / 2600 | Prize pool: ///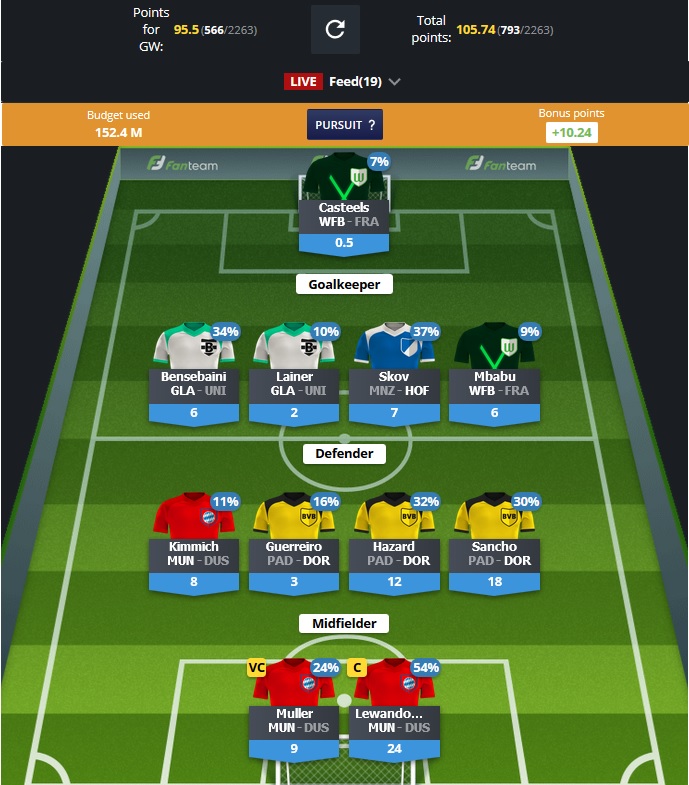 | | |
| --- | --- |
| RETURNS | |
| Casteels (Wolfsburg) home vs Frankfurt | Saves +0.5 |
| Mbabu (Wolfsburg) home vs Frankfurt | 1 goal |
| Skov (Hoffenheim) away vs Mainz | Clean sheet, Impact+1 |
| Bensebaini (Gladbach) home vs Union | 1 assist, Impact+1 |
| Kimmich (Bayern) home vs Düsseldorf | Clean sheet, 1 assist, Impact+1 |
| Hazard (Dortmund) away vs Paderborn | 1 goal, 1 assist, Impact+1 |
| Sancho (Dortmund) away vs Paderborn | 3 goals, Impact+1 |
| Muller (Bayern) home vs Düsseldorf | 1 assist, Impact+1 |
| Lewandowski (Bayern) vs Düsseldorf | 2 goals, Impact+1 |
Our team suggestion for the German 50K Monster in gameweek 30
Formation: 3-5-2 | Budget used: 157.0m/195.7m
General approach
With Pursuit mode active for another round of FanTeam German 50K Monster fun, budget restrictions have been lifted for second consecutive week. This allows us to load up on some of this weekend's potential big hitters, as well as on some interesting assets with favourable fixtures. Where we went all-in last weekend in terms of selecting the big names, we have shifted this week to balance between stars and relatively less expensive Pursuit-positive picks with attractive match-ups. We have gone with three Leipzig players (at home against Paderborn), three Dortmund stars (home versus Hertha), three Hoffenheim assets (away against Düsseldorf), and two picks from Eintracht Frankfurt (at home versus Mainz).
Goalkeeper
In defence, we have gone with a block of three Hoffenheim to start with and our goalkeeper is one of them. Only six goalkeepers in the Bundesliga have performed better on FanTeam than Oliver Baumann until now, with an average of 3.56 points per game. A big reason for these good returns is the German's average of 2.68 saves per game, which in FanTeam already adds up to 1 point. This weekend though, we're aiming for a clean sheet more than for save points. That's because Saturday's opponent Düsseldorf are the second-least productive outfit in front of goal in the entire league, with just 31 goals in 29 games overall.
Defenders
Düsseldorf's shyness in the opponent's penalty area isn't our only reason for stacking up on Hoffenheim defenders, though. In our defensive line, we reserved spots for out-of-position performer Robert Skov and "keeping Pursuit mode in mind" pick Stefan Posch, thanks to Hoffenheim's own defensive stability as well. Die Kraichgauer have conceded 48 goals in 29 games, which is average in comparison to the rest of the league, but it's in away games especially that they have shown extraordinary resilience by conceding just 13 goals in 14 games. No team in the league has done better so far. Add to that the seemingly diminished home and away bias due to games being played without spectators, and you'll understand why we're putting our money on Hoffenheim's defence this weekend albeit we lose 3 stacking penalty points.
Skov is actually a right-back who is playing as a right winger in trainer Alfred Schreuder's team. As a result of this situation, he already has 4 goals and 5 assists to his name, as well as 82 FanTeam points. A goal, an assist and a clean sheet in his last three games allowed him to record a more than decent 21 points over that same period.
Like Skov, Posch is a nailed-on starter in Hoffenheim's starting eleven. The central defender is one of the eight players in the team with more than 1,800 Bundesliga minutes to his name this season and is expected to start on Saturday as well. He has not scored or provided an assist yet this season, but he is also a cool 1.2 million less expensive than Pavel Kaderabek. We decided to prioritise budget for this one and select Posch with a clean sheet in mind against Düsseldorf (and half a bonus point extra).
Our third and final defender for gameweek 30 is our first RB Leipzig pick, left-wingback Angeliño. Die Rote Bullen are facing the league's red lantern Paderborn on Saturday afternoon in what is probably the most attractive fixture from a fantasy football point of view. Where only Bayern and Dortmund are more productive in front of goal than Leipzig (74 goals scored), only Bremen and Mainz have conceded more goals than Paderborn's 61 from 29 games. At the same time, only Bayern has conceded less goals than Leipzig (31 conceded), while only Düsseldorf and Bremen have scored less than the 32 goals scored by Paderborn. In other words, one of the leagues strongest offences and defences is facing one of the league's weakest offences and defences in Leipzig this weekend. Add to that Angeliño's up-field positioning and his current stats (1 goal, 1 assist, 4 clean sheets, 8 games), and you can see why we're crossing our fingers for returns at both sides of the pitch from him.
Midfielders
The Spanish left-back is joined by his Leipzig team mate Dani Olmo in our selection for gameweek 30. The 22-year old Spaniard was bought from Dinamo Zagreb for €19 million in January 2020 and it was last weekend that he recorded his first goal for his new club, good for 8 FanTeam points. He looks to have conquered a spot in Julian Nagelsmann's starting lineup, in which he switches between the number 10 spot and different positions on both wings. Besides his goal, he also has an assist to his name already and we wouldn't be suprised to see him improve on his current tallies when Paderborn roll up to the Red Bull Arena Leipzig. On top of that, picking Olmo over more expensive Leipzig options like Sabitzer (16,1 million), Nkunku (15,9 million), Laimer (14,9 million), or Schick (15,1 million) has saved us a minimum of 1,7 million and a maximum of 2,9 million with Pursuit mode in mind.
Our second midfield pick is Eintracht Frankfurt's Filip Kostic, who, with 4 goals and 11 assists to his name, is currently Eintracht's joint-MVP. As a matter of fact, he got his eleventh assist of this Bundesliga season just last weekend in the game against Werder Bremen. That meant that the Serbian international brought his total FanTeam points over the past three weeks to 18, which is not a bad average at all. Die Adler have a home game against current number 15 Mainz this weekend and we're expecting goals for this one: no team has conceded more goals than Mainz (62) and only five teams have scored more than Frankfurt (49). Hopefully, Kostic can get involved once again on Saturday.
The rest of our five-men midfield consists of Dortmund assets, namely Thorgan Hazard, Jadon Sancho and Julian Brandt. Star striker Erling Haaland is reported to miss Saturday's game against Hertha Berlin at home, which is why we have opted for these three midfielders. Just like last weekend against Paderborn, we're expecting Hazard to take up Haaland's spot up front, but the likes of Sancho will also get plenty of opportunities to pop up in front of goal as Hazard's associative and link-up play is extraordinary. This was illustrated last weekend, when the Belgian got a goal and an assist, while the young Englishman recorded the first hattrick of his professional career (all in one-half). In that same game, Brandt brought his owners 6 FanTeam points, courtesy of an assist and one impact point.
The reason why we decided to load up on Dortmund midfielders despite their ultra-premium price tags is their current (goalscoring) form in combination with a relatively winnable home fixture this weekend, though opponent's Hertha are in great form at the moment as well. Only Bayern have scored more than Dortmund in the German league, both in terms of home games and overall Bundesliga games, at an average of almost three goals per game. Hertha, on the other hand, are the team in the top half of the table that has conceded the most goals (50 in 29 games). The team from the Capital books results with an attacking approach that comes at the cost of some defensive stability, which is similar to Lucien Favre's tactics at Dortmund. Both teams score and concede relatively easily and even though we see Die Schwarzgelben take the victory here, there could be plenty of goals on the horizon for both outfits in this one.
Forwards
Timo Werner is our first forward and our captain for this weekend as well. The RB Leipzig striker is gameweek 30's most expensive player on FanTeam and that's really no surprise. The young German has already shown to be a very dependable source of goals, which is underlined by the 25 goals (and 7 assists) already recorded by him in the Bundesliga this season. Only Bayern phenomenon Robert Lewandowski has scored more up until this point with an unbelievable 29 goals from 27 games. Werner is the focal point of one of the Bundesliga's most prolific outfits though, and this weekend they are hosting the league's number 18, Paderborn. Football is and remains an unpredictable game, of course, but we feel there is a considerable haul on the cards here for the striker.
Our final pick of the week is another in-form striker, namely André Silva from Eintracht Frankfurt. The Portuguese forward has scored a goal in his last three games for a total of 20 FanTeam points, but that's not at all. Despite playing for a (lower) mid-table team, he has already scored 8 goals and provided 3 assists in 20 Bundesliga games this season, and the home game against Mainz looks like the perfect opportunity to work towards the double digits for Silva. Die Nullfünfer have conceded a staggering 62 goals in 29 games so far this season and 35 of those goals came in away games. We'll have to see what the effect of an empty Commerzbank-Arena will be on both these teams, but we find it hard to imagine Frankfurt not winning this one by a comfortable margin.
As we said this team has been entered into the 20 euro FanTeam Midweek German Monster and we hope to report back next week that we've shared part of the 50,000 euros prize pool. You can also follow discussions about FanTeam games on FISO's FanTeam Forum where we have a FreeRoll for those that want to learn a bit more about the game.