As part of FISO's special series of weekly articles on FanTeam, Europe's biggest daily fantasy football provider, we will actually be entering the team we write about each week into the game. This series will focus on FanTeam's Premier League Main Event, a daily fantasy league based on the Premier League games. Our article will focus on an Early Entry for this weekly tournament to help you identify game rules, tactics and the most promising players per gameweek, so you can win some of that large prize money.
Our FISO team below will be entered into this week's €20 entry (€100,000 prize pool) Main Event, which has a maximum entry limit of 7,000 participants. Every week, we'll report back on how our team performed in the previous week. A finish in the top 1,111 would see us win part of the prize pool of which the winner takes home a cool €20,000. FanTeam also offer a €2 entry Weekly Monster with a lower prize pool (of which the winner gets €1,000) for those who prefer to play with lower stakes.
Before moving onto our team selection, we want to highlight a couple of FanTeam rules that they apply to their Weekly Monster competition and that represent some of the major differences when comparing the game to the FPL.
Number one is that FanTeam have a rule called the 'safety net'. The safety net comes into play when a selected player does not start in the Weekly Monster, because the game will then automatically replace this player with the next lowest-priced player from the same position (GK, DEF, MID, FOR) in the same team. This is regardless of whether or not your selected player does take to the field later in the game. This rule helps people who have entered a team into the Weekly Monster not to worry too much about whether their selected players will start or not, particularly if they know there are cheaper players for that same club in that same position who should start instead.
Number two is that FanTeam also have a 'stacking penalty' for the Weekly Monster, which penalises teams that have selected more than one defenders/goalkeeper from the same club. The stacking penalty comes into play when you pick more than one defensive player (defenders or goalkeepers) from a particular club and this club records a clean sheet. The points awarded for this clean sheet will decrease by 1 point for each additional defensive player from the same club that you have selected. The stacking penalty has a maximum of minus 3 points. This rule helps stop multi-entrants from gaining an advantage by submitting block defence teams. A reasonable tactic can be to select two players from two different clubs for your Goalie and Defenders, which would see you incur just 2 single-point deductions if you nail both clean sheets correctly.
Finally, the Pursuit format is being applied to the upcoming FanTeam Weekly Monster. In this game mode, you get more bonus points the cheaper your players are (you gain 1 point for every 2.5 million euros underspent). Your captain will get double points, but he will also cost twice as much. Your vice-captain will get 150% more points, but he will also cost 150% more. You can read about Pursuit in more detail on the FanTeam website.
Don't forget, the deadline for gameweek 38 FanTeam's Main Event is set at 16h00 (UK time) tomorrow Sunday, July 26th, 2020. You can enter a team earlier and make changes right up to the deadline. This means you have an hour to check the starting line-ups for the matches.
Gameweek 38 Main Event matches
Our team suggestion for the Weekly Monster in gameweek 38+
Formation: 3-5-2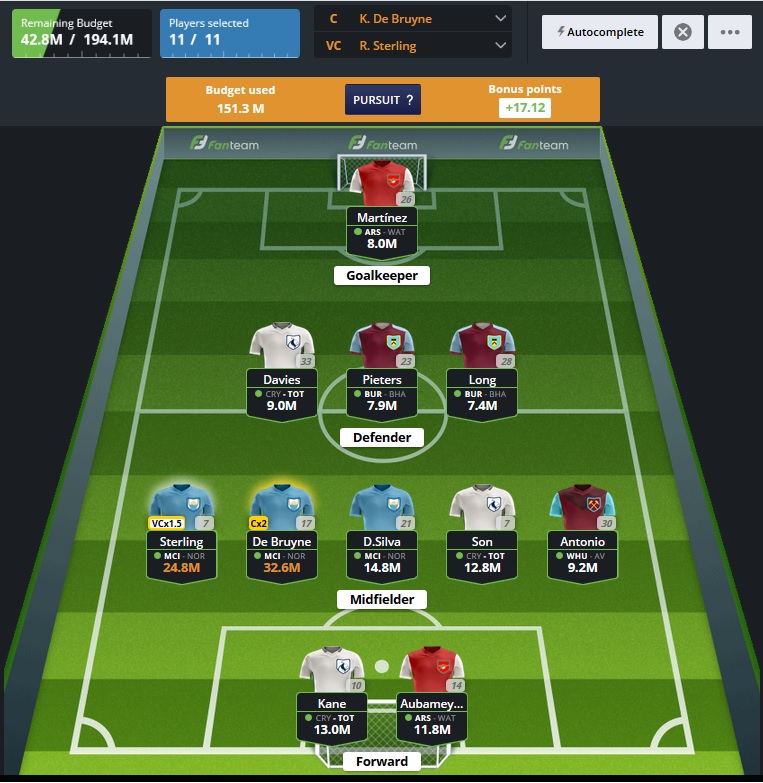 General approach
To make the crazy 2019-20 season's ending even more intense, FanTeam have created The 100K Premier League finale, a max 7,000-player tournament with Pursuit Mode, the Stacking Penalty and the Safety Net activated, and a total prize pool of a whopping €100,000. Our picks for the final match day are largely concentrated on three teams, with a few additional joker picks to reach a full eleven. Of course, all games will start at the same time on Sunday (16:00 UK time), so you will have a full hour to check out starting lineups for each club and tweak your FanTeam selection accordingly.
To help you navigate one of the season's notoriously most difficult-to-predict gameweeks, we've placed a simple table below listing the teams that still have something to play for on the final match day.
| | | |
| --- | --- | --- |
| Team / Player | What's still to play for? | Opponent in GW38+ |
| Manchester United | 1 of the 2 remaining CL spots | Leicester (away) |
| Chelsea | 1 of the 2 remaining CL spots | Wolves (home) |
| Leicester City | 1 of the 2 remaining CL spots | Man United (home) |
| Wolves | 1 remaining EL spot | Chelsea (away) |
| Spurs | 1 remaining EL spot | Crystal Palace (away) |
| "7th place" | ** | |
| Aston Villa | Avoiding relegation | West Ham (away) |
| Watford | Avoiding relegation | Arsenal (away) |
| Bournemouth | Avoiding relegation | Everton (away) |
| | | |
| Jamie Vardy (LEI) | Golden Boot (currently 23 goals) | Man United (home) |
| Danny Ings (SOU) | Golden Boot (currently 21 goals) | Sheffield Utd (home) |
| P-E Aubameyang (ARS) | Golden Boot (currently 20 goals) | Watford (home) |
| Mo Salah (LIV) | Golden Boot (currently 19 goals) | Newcastle (away) |
| Raheem Sterling (MC) | Golden Boot (currently 19 goals) | Norwich (home) |
| Nick Pope (BUR) | Golden Glove (currently 15 CS) | Brighton (home) |
| Ederson (MC) | Golden Glove (currently 15 CS) | Norwich (home) |
*CL = Champions League; EL = Europa League; CS = clean sheet.
** If Chelsea win the FA Cup against Arsenal, 7th place will also give access to the EL.
MANCHESTER CITY
With 16 goals scored over the past four games and a home game against Norwich coming up, Manchester City's final game of the season looks like it's going to be a goal bonanza. As a result, it's no surprise that sky blue assets form the backbone of our FanTeam 100K Premier League Finale selection. Neither team has particularly much to play for left as City are guaranteed second place and will be eyeing the Champions League return against Real Madrid, while Norwich were officially relegated a few weeks ago already. We don't think the upcoming CL encounter won't have too impact though, as it's planned for August 7th, in more than two weeks time. Our provisional three City picks are based on the strongest possible eleven, including the living legend David Silva.
Gameweek 38+ will be the Spaniard's last game in English football after 433 games, 77 goals and 140 assists for the sky blues from Manchester. It's just hard to imagine him not being the centre of attention before, during and after the Norwich game. On top of that, he's simply in great form, as usual. Silva was rested in gameweek 37+, but he recorded a lovely 30 FanTeam points over the period GW34+ to GW36+, courtesy of 2 goals and 3 assists. Do keep in mind though, that he might be honoured with a substitution in the second half to say goodbye to the City faithful in style.
At the moment of writing, our other two City picks are the unavoidable Kevin de Bruyne and man-in-form Raheem Sterling. The Belgian playmaker has been one of, if not the best, player this season. With 243 FT points, he is ranked second overall, just 6 points behind Salah, and the home game against Norwich looks like the perfect opportunity for him to overtake the Egyptian Premier League champion at the very last minute. Raheem Sterling then, is the highest-scoring player over the past six rounds, scoring 7 goals, giving 4 assists and taken an incredible 60 FT points from that period. If he starts, you should probably get him and captain. We will.
SPURS
If after the first weeks of Project Restart you would have bet us that we would be selecting two Spurs players for our gameweek 38+ dream team, we would've probably taken that bet and lost. After a last-ditch surge in form, or at least results, José Mourinho's team boasts one of the go-to rosters for the final week. The Spurs have taken 13 points from the last five games and the final encounter is with a Crystal Palace side in holiday mode. The Eagles have been uncharacteristically leaky in defence since football returned, conceding a worrying 17 goals in the last seven games. To add to the worries, they netted just twice over that same period.
As a result, Harry Kane and Son Heung-Min are part of our GW38+ fantasy selection. The England number nine has had a so-so season and injuries had a lot to do with that, but it looks like he's back to his devastating best just in time for Spurs to nick an admittedly unexpected European spot. He collected 22 FT points over the past two games, courtesy of 4 goals. Son's impact has been a bit less influential, but nevertheless more than worth considering, especially considering the opposition's form. The South Korean international is a nailed-on part of Mourinho's starting setup and it's not hard to see why. In the last three games, Son scored twice and gave 2 assists for a total of 27 FT points.
The match-up with Crystal Palace also warrants a Spurs defender, though. The chance of a clean sheet is simply too likely to pass up. The reason we've gone with Ben Davies instead of the more popular Aurier is that the Ivorian right-back will be facing one of the division's most direct and adept dribblers in Wilfried Zaha. It's hard to see Palace put one past Lloris, but it's not at all hard to see Zaha cause Aurier some serious trouble over 90 minutes. If that were to happen, right central defender Sanchez will need to step in most of the times, which discards him for us as well. Ben Davies is a bit cheaper than Toby Alderweireld and on some set-pieces as well, and whilst his left-back position makes him more susceptible to a substitution later on in the game as long as he plays at least 60 minutes he won't lose a point unlike midfielders and attackers.
BURNLEY
Up until the last moment, our defensive setup for gameweek 38+ actually contained three Burnley assets, including the current leader in the Golden Glove ranking, Nick Pope. He is currently one clean sheet ahead of Liverpool's Alisson, so a shut-out against Brighton at home would seal the award, no matter what Liverpool do in Newcastle. Several Clarets have already declared that they will do anything they can to get Pope (and therefore the team) the Golden Glove, so Burnley vs Brighton is likely to become a low-scoring affair. Due to the activated Stacking Penalty though, we eventually decided to limit ourselves to two Burnley assets, leaving Pope himself out of the team as he'll probably have little to do against a group of Seagulls already planning their holidays.
This means we did stick with two starting Burnley defenders, Erik Pieters and Kevin Long. Both have benefited from some injury issues in the Clarets' backline, though Pieters has recently been employed as a left midfielder as well. This allowed the Dutchman to whip in some nice crosses and make a few attempts for an attacking return. He was successful last weekend against Norwich with 1 assist to bring his total to 4 for the season. His defensive partner Long came into the team in gameweek 32+ and he hasn't missed a minute since then. He was part of two clean sheets over that period and we're confident he'll be adding a third to his tally on Sunday when Brighton visit Turf Moor.
ARSENAL
The times are strange when a gameweek dream team boasts an Arsenal defender, let alone an Arsenal keeper, but yet here we are. Things seem to be taking a turn for the better under Arteta though, as the Gunners actually kept the nil on four occasions over the last seven gameweeks. On top of that, as replacement of the injured Bernd Leno, Emiliano Martinez has left a generally very good impression since coming into the squad back in gameweek 30+. The Argentinian goalie made 27 saves over the past seven games, which equals 13.5 extra FT points. On Sunday, he is facing Watford at the Emirates and with the Hornets having scored just a single goal in their last five away matches, the Arsenal goalkeeper could be an excellent addition at a reasonable price.
But what about Pierre-Emerick Aubameyang then? Are we selecting Arsenal's reserve goalie for the FanTeam 100K Premier League Finale, and not their main man and outside contender for the Golden Boot? Obviously not. Besides their lack of productivity on the road, Watford have also conceded 15 goals in the last six games overall. With the Gabonese striker still chasing the Golden Boot, we can see him net one or two here. Do keep in mind that Watford are fighting for a last chance of survival, so even without Nigel Pearson, they won't make it easy for the Gunners.
THE JOKER
West Ham's Michail Antonio is our joker for the FanTeam 100K Premier League Finale event. As an out-of-position midfielder and the top scorer of Project Restart, he fills the eleventh and final spot of our selection. The Englishman has been more essential than ever for the Hammers by scoring 8 goals and providing 1 assist, collecting 61 FT points in the process. His goal from the penalty spot against Man United in gameweek 37+ assured West Ham of another year of Premier League football, so it remains to be seen how the Hammers will turn up at home against a poised Aston Villa side. The home team might not take the three points here, but the Villans will need to attack if they want to avoid relegation. In his current form, we'd want nobody else than Antonio there to exploit the spaces that will undoubtedly start appearing at some point. Even if his team doesn't win, he might help a few fantasy managers finish their seasons with a bang.
As we said this team has been entered into the 20 euro FanTeam Premier League 100k Main Event and we hope to report back next week that we've shared part of the 100,000 euros prize pool. You can also follow discussions about FanTeam games on FISO's FanTeam Forum.