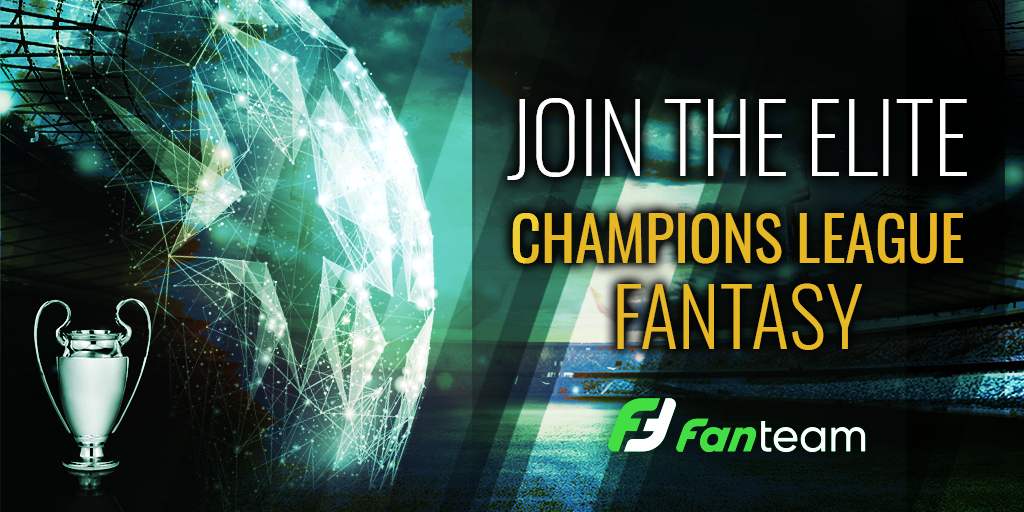 The Premier League 2019-20 season might be over, but that doesn't mean the FanTeam fun is. On the contrary, with the Europa League and Champions League resuming over the coming days, FanTeam is offering a whole range of tournaments. The first one we'll be covering is the €100K Champions League tournament involving the two games  to be played on Friday, August 7th (see table below). The deadline for these games is set at 20h00 (UK time) that day.
Our FISO team below will be entered Friday's €20 entry (€100,000 prize pool) Champions League event, which has a maximum entry limit of 7,000 participants. A finish in the top 1,111 would see us win part of the prize pool of which the winner takes home a cool €20,000. FanTeam also offer a €2 entry with a lower prize pool (of which the winner gets €1,000) for those who prefer to play with lower stakes.
Before moving onto our team selection, we want to highlight a couple of FanTeam rules that they apply to this competition and that represent some of the major differences when comparing the game to FPL.
Number one is that FanTeam have a rule called the 'safety net'. The safety net comes into play when a selected player does not start because the game will then automatically replace this player with the next lowest-priced player from the same position (GK, DEF, MID, FOR) in the same team. This is regardless of whether or not your selected player does take to the field later in the game. This rule helps people who have entered a team not to worry too much about whether their selected players will start or not, particularly if they know there are cheaper players for that same club in that same position who should start instead.
Number two is that FanTeam also have a 'stacking penalty' which penalises teams that have selected more than one defenders/goalkeeper from the same club. The stacking penalty comes into play when you pick more than one defensive player (defenders or goalkeepers) from a particular club and this club records a clean sheet. The points awarded for this clean sheet will decrease by 1 point for each additional defensive player from the same club that you have selected. The stacking penalty has a maximum of minus 3 points. This rule helps stop multi-entrants from gaining an advantage by submitting block defence teams. A reasonable tactic can be to select two players from two different clubs for your Goalie and Defenders, which would see you incur just 2 single-point deductions if you nail both clean sheets correctly.
Finally, the Pursuit format is being applied to this FanTeam tournament. In this game mode, you get more bonus points the cheaper your players are (you gain 1 point for every 2.5 million euros underspent). Your captain will get double points, but he will also cost twice as much. Your vice-captain will get 150% more points, but he will also cost 150% more. You can read about Pursuit in more detail on the FanTeam website.
Don't forget, the deadline for this tournament is set at 20h00 (UK time) tomorrow. You can enter a team earlier and make changes right up to the deadline. This means you have an hour to check the starting line-ups for the matches.
Champions League Matches for the 100k Tournament
General approach
For our 5-man selection, we've gone with two big hitters from Juventus as the Old Lady needs to make up for a surprising 1-0 loss to Olympique Lyon in the first leg, as well as two Real Madrid aces and a Lyon joker. Los Blancos lost at home to City in the first leg, but we feel that if there is one team who can turn this kind of result around in Europe's elite competition, it's them. They've got the Champions League in their DNA, so to say, while picking two of their players also gives our selection much-needed differential edge. As far as Lyon goes, we don't see them passing this round despite their more than comfortable 1-0 advantage, but should they complete their surprise against Juventus, one man is very likely to be at the centre of it all.
| | | |
| --- | --- | --- |
| HOME TEAM | AWAY TEAM | RESULT FROM FIRST LEG |
| Juventus | Olympique Lyon | 1-0 to Lyon |
| Manchester City | Real Madrid | 2-1 to Man City |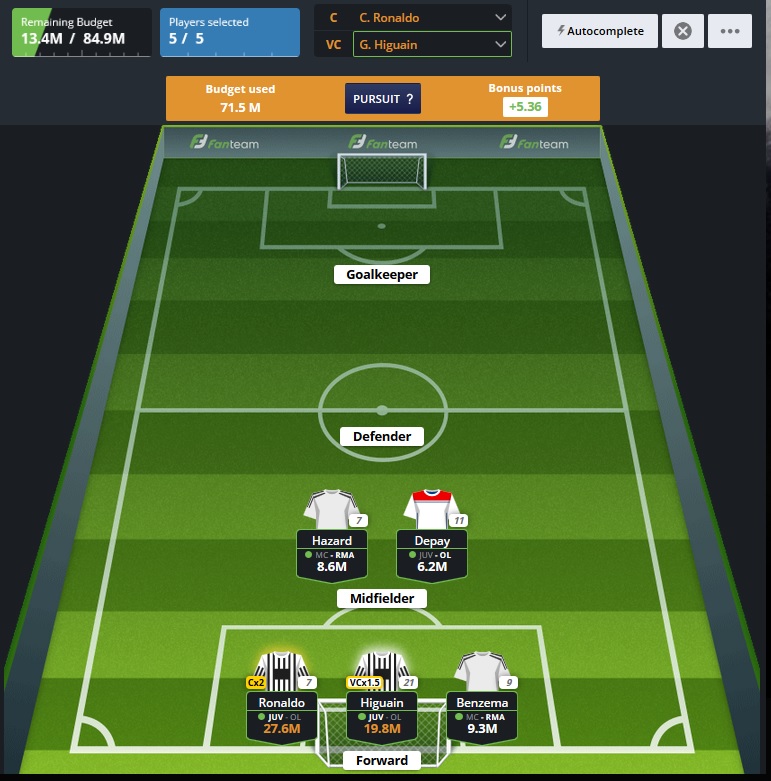 JUVENTUS
One thing is clear in regard to the encounter in Turin: the home team need to score. Juventus were recently crowned champions of Italy for a record ninth time in a row and the fact that they finished their domestic season about two weeks before the re-start of the Champions League might prove to be determining on Friday. That's because Lyon have only played one official competitive game since their 1-5 semi-final loss to PSG in the French Cup on March 4th of this year, namely the final of the Coupe de la Ligue, which they lost against PSG after penalties. This could be seen as an advantage as well, as it has allowed star man Memphis Depay to fully recover from his serious knee injury, but they´ll certain be worried about Juve's championship flow. On top of that, the Italians simply can't afford to be eliminated this early in the tournament.
As a result, we've gone with Juve's two big men up front, Gonzalo Higuain and Cristiano Ronaldo. The Portuguese all-time Champions League top scorer is having yet another top class season with 31 goals and 5 assists from 33 Serie A games, as well as 2 goals in the ongoing edition of the CL. He's used to having (much) more of an impact in Europe though, and "knowing" him, he'll be more than fired up work on his numbers against l'OL. The player most affected by Ronaldo's hunger for goals has been Argentinian striker Gonzalo Higuain. He scored 8 and assisted 4 goals in 32 Serie A games this season, and managed to net twice in the Champions League so far, which are tallies well below his usual. Still, he is their striker and a lethal one at that. He knows what it's like to be counted on to score an important goal or two and we have a feeling that he might well be on the scoreboard by the time the game in Turin has finished on Friday night.
REAL MADRID
Real Madrid have got their work cut out for them on Friday. The Merengues manoeuvred themselves into a more than complicated position after losing 1-2 to Man City at home just before the corona crisis temporarily shut down European football, which means they now need to face one of Europe's most prolific attacking machines away from home. As we said before though, if there is one team in Europe capable of turning such a result around in such circumstances, it's Real Madrid. The newly-crowned La Liga champions live and breathe Champions League football, conquering the cup a record 13 times throughout their history and an unprecedented three times in a row between 2015 and 2018. Elimination would not only be a footballing and financial disaster for the club, but an embarrassment as well, even against a side as good as Pep Guardiola's Manchester City.
To be clear, we don't consider Madrid favourites here, but we do feel confident enough in their resilience, form and overall quality to cause an upset here. It's far from unlikely that Madrid will score against an at times wobbly City defence, while the probability of a City goal at some point is quite high as well. In other words, there could be goals in this one, which is why we've gone with Madrid striker Karim Benzema and his record-signing team mate Eden Hazard. The French forward is having one of his most productive seasons ever with 21 goals and 8 assists in 37 La Liga games, as well as 4 goals and 2 assists in the ongoing Champions League campaign. He's a nailed-on starter for coach Zinedine Zidane and a key cog in Real's attacking play. His Belgian team mate saw the 2019-20 football season largely ruined by injury, but he is fit again and expected to start against City. As most Premier League fans will know, on a good day, Hazard is simply unplayable and the hope is that he'll be having one of those days on Friday. Should he not start, the active Safety Net feature will automatically select Vinicius Junior for our team, who was in contention for selection from the start any way.
THE JOKER
Seeing as the FanTeam €100K Champions League tournament is offering a small pool of players and no budget restrictions, chances are that many teams of five will contain the same big names. In an attempt to counter this prediction, we have added a joker to our team in the person of Lyon talisman Memphis Depay. Before a knee injury caused him to miss most of the season pre-corona, the Dutch forward was on fire with 9 goals and 2 assists in just 13 Ligue 1 games, as well as an impressive 5 goals in five Champions League encounters. Despite not scoring in the Coupe de la Ligue final against PSG, he caused the Parisian defence plenty of trouble as he was at the heart of most of Lyon's attacking intentions. It'll be a tough game against Juventus and chances might be scarce for him in Turin, but with a home side in need of goals, Memphis might get a chance or two. On top of that, he is their man when it comes to both direct free-kicks and penalties. In other words, he probably won't be part of the winning side, but he might just get his backers some FanTeam points.
As we said this team has been entered into the 20 euro FanTeam Champions League 100k Main Event and we hope to report back next week that we've shared part of the 100,000 euros prize pool. You can also follow discussions about FanTeam games on FISO's FanTeam Forum.