As part of FISO's special series of weekly articles on FanTeam, Europe's biggest daily fantasy football provider, we will actually be entering the team we write about each week into the game. Our article will focus on an Early Entry for their Fantasy Premier League tournament held each week in order to help you identify game rules, tactics and the most promising players per gameweek, so you can win some of that large prize money.
Our FISO team below will be entered into this week's £10.32 entry Monster with £43,000 of cash prizes on offer bringing plenty of excitement to the weekend's Premier League action. Entry deadline is the usual 3pm on Saturday. Join the discussion on FISO's FanTeam forum.
Before moving onto our team selection, we want to highlight a couple of FanTeam rules that they apply to their Weekly Monster competition and that represent some of the major differences when comparing the game to the FPL. Do though check out the Predicted Line-Ups for the Premier League clubs as well as the latest injury news (click on 'Team' to sort per club rather than the default 'date') before finalising your picks.
Number one is that FanTeam have a rule called the 'safety net'. The safety net comes into play when a selected player does not start in the Weekly Monster, because the game will then automatically replace this player with the next lowest-priced player from the same position (GK, DEF, MID, FOR) in the same team. This is regardless of whether or not your selected player does take to the field later in the game. This rule helps people who have entered a team into the Weekly Monster not to worry too much about whether their selected players will start or not, particularly if they know there are cheaper players for that same club in that same position who should start instead.
Number two is that FanTeam also have a 'stacking penalty' for the Weekly Monster, which penalises teams that have selected more than one defenders/goalkeeper from the same club. The stacking penalty comes into play when you pick more than one defensive player (defenders or goalkeepers) from a particular club and this club records a clean sheet. The points awarded for this clean sheet will decrease by 1 point for each additional defensive player from the same club that you have selected. The stacking penalty has a maximum of minus 3 points. This rule helps stop multi-entrants from gaining an advantage by submitting block defence teams. A reasonable tactic can be to select two players from two different clubs for your Goalie and 3 Defenders, which would see you incur just 2 single-point deductions if you nail both clean sheets correctly.
Our team entered in the Gameweek 1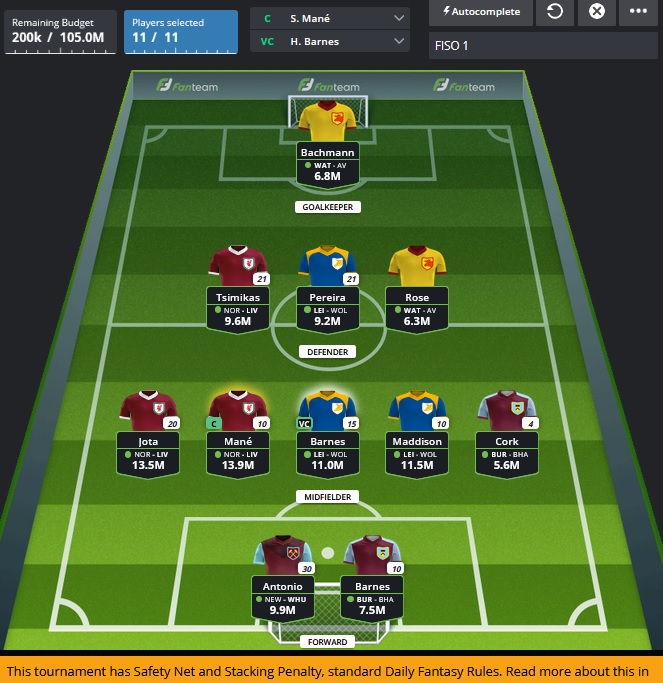 Liverpool
Norwich got themselves quickly promoted back to the Premier League but didn't fare very well last time around and many, ourselves included, will fancy Liverpool to come out the winners over 90 minutes. Tsimikas looks to have the left back role in Robertson's injury absence whilst Jota and Mane (captain) have been on the score sheet in pre-season (unlike Saha who we're bravely passing over).
Leicester
The Community Shield win against Man City showed that Leicester are already up and running this season. Wolves are a bit of an unknown quantity with their new manager and a disappointing campaign last season. We're banking on Barnes (vc), Maddison and Pereira putting their injury troubles from last season behind them.
Watford
A solid defensive unit coming up from the Championship will be put to the test by a Grealish-less Aston Villa. Our budget options of Bachmann and Danny Rose may pay dividends, particularly if Watkins misses out and Ings fails to gel with his new team-mates.
Burnley
Barnes has had a good pre-season and we will see the team line-ups v Brighton so can change if he's not a starter. Jack Cork is very cheap and may just get an assist.
West Ham
Our final spot goes to the energetic Antonio who's another with a good pre-season and will be fancied to get on the score sheet away to Newcastle.
For more comment join other FPL enthusiasts in FISO's FPL discussion forum.